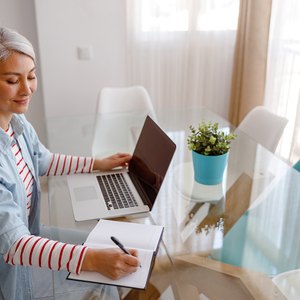 •••
Yaroslav Astakhov/iStock/GettyImages
If you have ever dreamed of becoming a published author, you are not alone. One of the most difficult aspects of becoming a writer is figuring out how to pay the bills while you work on your project. The good news is that you might be able to find a grant that will allow you to pursue your dreams. The most difficult part is knowing where to look for grants for writers.
Explore Grants for Older Writers
One of the more popular grants for older writers is sponsored by the Speculative Literature Foundation. It offers an Older Writers Grant for writers over 50 years old. It accepts work from authors in science fiction, fantasy, fairy tales, and other speculative literature works.
The Robert H. Winner Memorial Award is an award for poets over the age of 40. It is for poets who have not yet been recognized in their craft. Applicants must have published one or fewer books. The winner receives an award of ​$2,500​ and is recognized as an award recipient.
Finding time to write while raising a family can be challenging. The Sustainable Arts Foundation Award helps struggling artists with families to be able to work on their projects. This award grant offers up to ​$5,000​ for 20 writers each year.
You can use the money to further your education, for career development, or to cover child care costs. You must have at least one child under the age of 18 to be eligible.
Find Grants for Women Writers
The Patricia Dobler Poetry Award is sponsored by Carlow University in Pittsburgh. This award pays for attendance to the Master of Fine Arts program in Sligo, Ireland; a reading at Carlow University; and publication in the literary journal of the university. To participate, you must be a female over the age of 40.
If you are a writer, a residency might allow you to pursue your dreams and still pay for your endeavors. The Kerouac Project, named after author Jack Kerouac, offers four writing residencies a year. It is open to writers of all backgrounds and not just those with a degree in writing. You receive housing, utilities, and a food stipend as well as have a chance to write in the same home where Kerouac wrote his famous novels.
Novel Writing Grants to Consider
Screenwriters have a chance to work for Disney/ABC television. The Disney/ABC Television Writing Program lets recipients spend one year as a staff writer on a Disney or ABC show. You can earn a weekly salary and benefits. In the past, writers have had a chance to write for shows like "Mad Men" and "Breaking Bad."
If you have a great idea for a book or poem but do not have the resources or time to complete it, the National Endowment for the Arts offers a literature fellowship. This grant program allows you to receive up to ​$25,000​ to be able to make time to work on your writing. This grant accepts a wide range of writers and artists.
The Awesome Foundation gives out micro grants of ​$1,000​ to help people write and do art. You can write in any genre, from professional work to an investigative piece or book; you can write anything. This grant allows you to do what you wish with the money. Some writers use it to attend a conference, to pay a debt or for anything else that helps them become a better writer or poet.
Many more could be included on this list. Now, you have a few places to start when it comes to funding your dreams.
References
Writer Bio
Adam Luehrs is a writer during the day and a voracious reader at night. He focuses mostly on finance writing and has a passion for real estate, credit card deals, and investing.