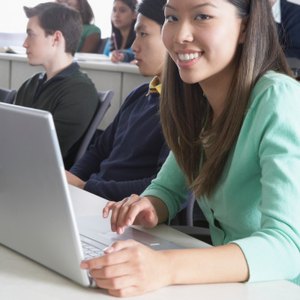 •••
Jack Hollingsworth/Photodisc/Getty Images
Single moms have challenges not faced by dual-parent households. Many struggle to feed their families; others have difficulties finding employment. There are many government subsidies, scholarships, financial aid programs, and grants available to low income single mothers. The process is not always simple and does take time to navigate. However, the results are substantial and well worth any challenges.
Nutrition Assistance
The Food Stamp Program, offered by the federal government, helps low-income families buy the food they need for a healthy lifestyle. Funds are deposited on an electronic card that is used like an ATM card and is accepted at most grocery stores. The United States Department of Agriculture sponsors the WIC Program for Women, Infants and Children which presents Federal grants to states for assistance to low income families, including single mothers. This program provides supplemental foods, health-care referrals, and nutrition education to low-income pregnant, breastfeeding, and non-breastfeeding postpartum women. These programs are also available to infants and children up to age five.
Private Food Assistance
Private food-supplement programs are available to low-income single moms. Angel Food Ministries is a non-profit, non-denominational organization that provides food relief to communities throughout the United States. Angel Food Ministries buys food from first-rate suppliers at tremendous discounts and provides families with quality nutritious food at half the price. Some states offer children of needy moms free school lunches and afterschool snacks through the National School Lunch Program.
In addition, there are many state and federal programs that assist low income single mothers in a variety of ways. The Assurance Wireless Lifeline Program allows low-income families that qualify for Medicaid, food stamps, or other state-funded programs to get wireless phone services from Sprint. They receive a free cell phone, along with 250 minutes of voice service every month.
Government Education Grants
For single mothers who have completed high school and wish to continue their studies, the government offers several education grants towards university studies. In addition to the Federal Pell Grant Program which provides need-based grants to low-income undergraduate students, the Federal Supplemental Educational Opportunity Grant (FSEOG) offers additional funds to undergraduates with great financial need. Both grants are based on income, assets and size of family, and do not have to be repaid.
Federal Internships
Once single mothers have completed their education, they can apply for a grant to do an internship at several federal agencies and ministries. These student opportunities are primarily located in Washington, D.C., but a number can be found in other areas. An internship does not guarantee employment with the department but does offer free training and experience. The Ministries of Agriculture, Health & Human Sciences, Education, Interior and Justice provide over 1200 assistance programs, many of them to single women and single moms.
FHA Mortgage Assistance
The Federal Housing Authority provides assistance to low-income single mothers in the form of down-payment assistance grants through several programs. Quickdown is a program that works with non-profit agencies to provide down-payment assistance to those who qualify for approved or pre-approved FHA home loans. The program is designed for those who don't have the cash for the down payment. The AmeriDream program offers grants of up to 10 percent of the home's purchase price that do not have to be paid back.
References
Writer Bio
Cina Coren is a seasoned project manager with experience in consulting, marketing, research, editing and public relations. She has also written and edited for several websites. Coren holds a Master of Arts in mass communication, as well as a Bachelor of Arts in economics and speech.