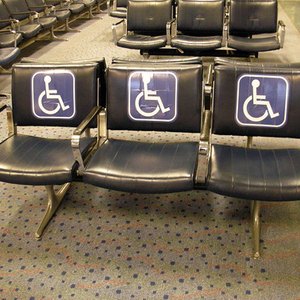 •••
Image by Flickr.com, courtesy of Daniel Lobo
Women with physical and mental disabilities may be eligible for government and private grants that provide financing for special projects and living expenses. Applying for one of these grants involves following a very specific process set forth by the granting agency. Following the instructions on each application can help you get hundreds or thousands of dollars in funds.
Housing Grants
Housing grants may be available for women with disabilities. It can be difficult for a disabled woman to purchase a home through traditional means, as disability often means having to work part time or receive financial assistance from government agencies. Lenders want proof of steady income, which cannot be provided if work cannot be consistently performed. Housing grants for disabled women can help them purchase their own homes or rent homes and apartments. If a purchased home needs to be renovated, construction grants may also be available. Women who use grant moneys to purchase or renovate homes may have to follow specific guidelines. Read all grant documents carefully to ensure that you will be able to adhere to these guidelines after the grant is awarded.
Business Grants
Just because a woman has a disability does not mean that she cannot be successful at personal and business ventures. Women with disabilities can be more successful in some cases because they understand the needs of their peers and can develop products and services to meet the needs of other disabled individuals. SCORE offers business counseling services in each state in the U.S. Check with a SCORE counselor to determine which grants are available for disabled women in your county. Before seeking out grant information, it's important to have a solid business concept and ideas on how to market your products or services. Your business plan will be reviewed by grant executives to determine if it is a feasible one that should be financed.
Education
Educational grants are often available for women with disabilities. The requirements for these grants vary by agency and educational institution. Grants can range from a few hundred dollars to several thousand dollars per year for the duration of a woman's education. Check with your institution's financial aid office; it may be necessary to meet requirements such as a minimum grade point average or participation in an extracurricular activity. Private foundations and government agencies may also make educational grants available for disabled women; check with your local government representative for grants in your community.
Personal Need
There are grants issued for personal need to disabled women. This includes grant money to help buy groceries and to pay bills as well as other living expenses. Although, there are many programs throughout the United States to help with this type of grant, it is best to first look locally for assistance. Contact churches, area hospitals or private groups in your community for a personal need grants.
Other Organizations
There are many different organizations a disabled woman can contact when trying to find a grant. Start at the U.S. Department of Health and Human Services. It will have a list of different state and local grants that will match your need with your qualifications. Another place to check is the Catalog of Federal Domestic Assistance. It has different programs available for individuals who fall into a particular category or specialized group. These are both free sites.
References
Writer Bio
C.J. Stanton has been a professional writer for over 10 years. She has written many articles for various websites, as well as for private clients. She attended the University of Alabama, where she majored in accounting and minored in English.