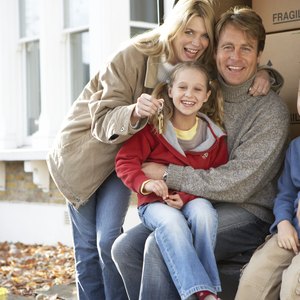 •••
Ableimages/Photodisc/Getty Images
Whether you're tired of renting or you're just ready to have a bigger space for your family, buying your first home is both exciting and a major financial decision. If you're an Alabama resident and need help with the often large expenses of a down payment and closing costs, you've got several options at the state, county and city levels. In addition to applying for grants for first-time homeowners in Alabama, you can take advantage of special loan programs that make it easier to get into your new home.
The Step Up Program
The Step Up program is one of the first-time home buyer programs in Alabama that the Alabama Housing Finance Authority offers. If your household earns under $97,300, you can obtain 3 percent down payment assistance through an additional 10-year second mortgage that you'll pay alongside your 30-year home mortgage. The program requires you to take a home buyer course to learn the basics of homeownership and financing.
This assistance only works along with Federal Housing Administration and Freddie Mac Home Possible Advantage HFA conventional loans. You'll also need to obtain your mortgage through a lender that participates with the program. Other requirements include having a credit score of at least 620 and a maximum debt-to-income ratio of 45 percent.
Affordable Income Subsidy Grant
If you finance your home with a Freddie Mac Home Possible Advantage HFA loan, the AHFA offers the Affordable Income Subsidy Grant to help you pay for your closing costs. Depending on your income, you can receive either $1,500 or $2,500 in assistance. The credit score, debt and home buyer education requirements are the same as for the Step Up program. You can take advantage of both state programs to have assistance for both your down payment and closing costs.
Local First-Time Home Buyer Grants
You can also find first-time home buyer programs in Alabama based at the city or county level. These programs mainly focus on down payment assistance and have residency restrictions.
Mobile County: If you meet credit and income requirements, you can qualify for $1,000 to $10,000 in down payment and closing cost assistance. This local program works only for single-family homes and excludes foreclosed and as-is properties. You'll be expected to contribute at least $500 yourself and remain in the house for five years to avoid having to repay your grant.
Decatur: Called the Decatur Home Ownership Made Easier program, this option lets you either get your closing costs fully paid or half of the minimum down payment your lender requires. In addition to selecting a home in the city, you'll need to receive approval for a mortgage, meet income requirements and complete a home purchase counseling course to qualify.

Huntsville: This local program through the Community Development Department can offer you as much as $7,500 to help pay closing costs and make your down payment. Your grant will depend on your financial need, and you'll need to live in the house for five years or else repay the grant.
Prichard: The Prichard Housing Authority helps individuals with low and moderate incomes purchase their first homes in the city. Your down payment grant will depend on your current income and other application factors. You'll need to show a steady income of at least two years and pass credit and rental history checks to qualify.
Montgomery: The Montgomery Housing Authority offers a home ownership program for current participants of the Housing Choice Voucher program. If qualified, you'll receive monthly funds that help you pay your new mortgage. You'll have to meet employment and income requirements as well as take an education course.

Affordable Home Loan Options
Even if you don't qualify for any of these first-time home buyer programs in Alabama, or you still can't afford a high down payment, you still have options when it comes to financing your first home. Depending on the program, you can put down only a small amount or possibly no money at all.
If you're in the military or a veteran, the Department of Veterans Affairs offers VA loans that require no down payment at all. The catch is you will pay a funding fee between 1.25 percent and 3.3 percent of the loan. However, Bankrate notes that you can roll this into your loan so that it's not an out-of-pocket expense.
If you can afford to put 3.5 percent down, you can consider an FHA loan, which works nicely alongside the AHFA programs. Conventional loan programs like Fannie Mae's HomeReady and Freddie Mac's Home Possible now also allow you to put as little as 3 percent down.
References
Resources
Writer Bio
Ashley Donohoe has written about business and technology topics since 2010. Having a Master of Business Administration degree, bookkeeping certification and experience running a small business and doing tax returns, she is knowledgeable about the tax issues individuals and businesses face. Other places featuring her business writing include Zacks, JobHero, LoveToKnow, Bizfluent, Chron and Study.com.