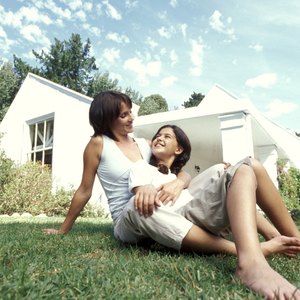 •••
Pixland/Pixland/Getty Images
Federal fair housing laws state that just about anyone in the United States can buy a house. What matters to lenders is simply whether or not you can repay the loan. Lenders measure this by looking at the strength of your credit profile and by looking at how much income you have relative to the loan's payment. As a single mother with low income, you might not be able to buy a multimillion-dollar mansion, but there are numerous home choices within your price range. And, both public and private housing finance programs may be available to help you realize your dream of home ownership.
Debt to Income Ratio
To get a sense of how much home you can afford, calculate your debt to income ratio. Lenders look at how much of your income goes to debt and won't let you borrow more than a set percentage of your monthly before-tax income. Talk to a lender to find out both the front- and back-end ratios. The front-end ratio is the percentage of your income that can go for your mortgage, taxes and insurance and the back end is the percentage that you can spend on all of your debts. For instance, if you have two children and make $29,000 per year (approximately $2,417 per month) and your lender uses a 28 percent front-end ratio and 36 percent back-end ratio, your maximum mortgage payment would be around $677 per month and your maximum debt payment would be $870 per month. Some lenders may give you more latitude, though.
Preparing for a Loan
There are two important steps in preparing for a loan, especially when you have a low income. First, manage your credit. While government-sponsored programs like the Federal Housing Administration and Veteran's Administration mortgages offer relaxed qualification guidelines, you'll still need a credit score in the mid-600s and, if you prefer a conventional mortgage, you'll need a score in the mid-700s to qualify for the best interest rate. Second, pay off debts with high payments to free up more income to make your monthly mortgage payment.
Choose a Mortgage Program
Unless you're able to amass a 20 percent down payment, consider one of the government-insured mortgage programs. FHA loans let you buy with as little as 3.5 percent down, but require you to pay an additional annual fee for mortgage insurance equal to 1.3 percent of your mortgage balance. If you're a current or former member of the U.S. military, you may qualify for a VA loan. VA loans let you buy with nothing down and don't require any ongoing mortgage insurance premiums. You'll have have to pay an upfront funding fee for a VA loan and an upfront mortgage insurance premium for an FHA loan. If you live in a rural or semi-rural area, the United States Department of Agriculture offers loans with 100 percent financing, no monthly insurance and liberal qualifying guidelines.
Get Local Help
As a low-income first time homebuyer, you might be eligible for assistance from your state or local government or a not-for-profit institution. The help could come in the form of a grant to help you with your down payment or closing costs or as a loan that is gradually forgiven as you stay in your house. For example, Florida has homeownership programs that provide zero percent and low interest-rate loans, some of which don't need to be repaid until the property is refinanced or sold. As another example, in Grand Rapids, Michigan, you can get up to $5,000 in first-time homebuyer assistance in the form of a zero-payment, zero-interest loan that gets forgiven after five years, if you buy a house in a designated area.
References
Resources
Writer Bio
Steve Lander has been a writer since 1996, with experience in the fields of financial services, real estate and technology. His work has appeared in trade publications such as the "Minnesota Real Estate Journal" and "Minnesota Multi-Housing Association Advocate." Lander holds a Bachelor of Arts in political science from Columbia University.