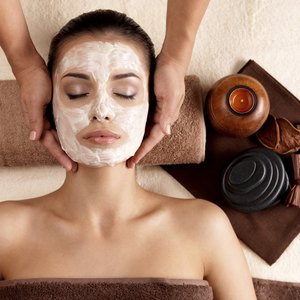 •••
Valua Vitaly/iStock/Getty Images
You're ready to beautify the planet -- one face at a time. Estheticians are skin care specialists who apply facials, wax clients and do other cosmetic beauty procedures. If you want to join this growing profession, you'll need to complete a cosmetology licensing program for your state. To cut the cost of cosmetology school, grants for esthetician programs can help to finish school without taking out loans or borrowing money from your family.
National Coalition Award
The National Coalition of Estheticians, Manufacturers/Distributors & Associations --- or NCEA -- offers a $1,000 annual scholarship for students who have partially completed school. To be eligible, you must enroll in an esthetician-only program. If you're enrolled in a cosmetology or general beauty program, you aren't eligible for this financial award. The NCEA will only consider applicants who have an 80 percent or higher grade average and have at least an 80 percent attendance record.
American Health and Beauty Aids Institute
The American Health and Beauty Aids Institute of Cosmetology -- or AHABI -- offers scholarships for esthetician students through the Fred Luster Sr. Education Foundation. The foundation was established in honor of Fred Luster Sr., a founding board member of AHABI. The awards total $3,000. Scholarships are given in $250 increments up to the maximum. To apply, you must have already completed 300 hours of esthetician or cosmetology school and have an 85 percent or higher grade average.
Beauty Associations
Associations such as the Professional Beauty Association and National Cosmetology Association offer scholarship money for students enrolled in esthetician programs. The Professional Beauty Association -- or PBA -- offers a $1,000 annual award to current members through the Hans Neumaier Memorial Scholarship. If you're a high school graduate, the PBA Sally Beauty Scholarship provides $500 and $1,000 financial awards to pay for skincare school. Another PBA scholarships is the $1,000 Minerva Beauty Scholarship for students who are enrolled in beauty school.
School Scholarships
You may not need to search outside of your esthetician school for financial help. Some schools offer their own scholarship programs for qualifying students. For example, the Marinello Schools of Beauty offers a $6,000 scholarship at its Provo campus for master esthetics students. Likewise, Chicago's Tricoci University of Beauty Culture offers its own scholarship to students. The school's institutional grant is need-based and awarded to students who meet financial guidelines.
References
Writer Bio
Based in Pittsburgh, Erica Loop has been writing education, child development and parenting articles since 2009. Her articles have appeared in "Pittsburgh Parent Magazine" and the website PBS Parents. She has a Master of Science in applied developmental psychology from the University of Pittsburgh's School of Education.