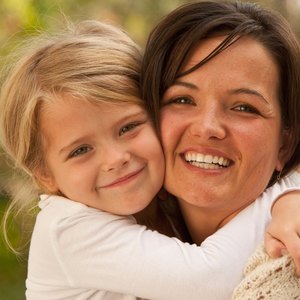 •••
Comstock Images/Comstock/Getty Images
As the popular saying goes, kids grow like weeds, which can be a huge problem for low-income parents. Some parents, whether due to life circumstances or a sudden financial emergency, cannot afford to buy their children the clothing they need. A lack of money can leave children wearing clothing with holes or stains, or pieces that do not fit their growing size. To counteract this problem, state agencies, charities and other organizations offer grants to help parents buy new clothing.
Available Grants
Several states offer grants to cover the cost of children's clothing. For example, West Virginia residents can receive a School Clothing Allowance grant, which provides a onetime cash grant. Qualified parents may receive assistance through their Native American association. For example, the Chickasaw Nation offers Visa gift cards parents can use for clothing. Parents can also find grants through charitable organizations. The Salvation Army offers financial aid for low-income families. Parents may also qualify for the Temporary Assistance for Needy Families program, a federally run program that offers monthly financial assistance to cover the cost of everyday needs like clothing.
How to Qualify
Eligibility largely depends on parents' financial situation. State-run programs require that a family meet income guidelines. For example, the West Virginia reports that a family of four can make up to $1,863 a month to qualify for the School Clothing Allowance grant. Other programs, such as the financial aid offered by the Salvation Army, require that parents have a serious need brought on by a financial hardship. Some programs accept only school-aged children.
How to Apply
Parents can apply for state grants by visiting their local Department of Human Services office or Department of Social Services office and completing an application. For charitable programs, parents will need to visit a local charity office. Parents should bring personal information documents such as proof of residency, a driver's license and Social Security numbers for themselves and their children. Parents may also need to supply documents showing their earned income, such as pay stubs, Social Security payments or child support payments.
Other Considerations
Parents who do not qualify for grants may receive free clothing for their children through charitable organizations. The Salvation Army offers care packages for families dealing with personal emergencies such as displacement due to a natural disaster, financial hardship due to job loss or a family crisis. Parents should visit local charities in person to discuss their options with a caseworker.
References
Writer Bio
Amelia Jenkins has more than eight years of professional writing experience, covering financial, environmental and travel topics. Her work has appeared on MSN and various other websites and her articles have topped the best-of list for sites like Bankrate and Kipplinger. Jenkins studied English at Tarrant County College.