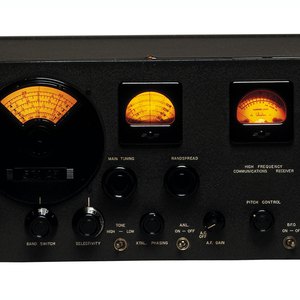 •••
Comstock/Comstock/Getty Images
Amateur radio operators, also known as hams, use the radio waves to communicate with fellow hams worldwide. Using transmitters and receivers, hams use the radio waves for local communication, to transmit with emergency personnel, distance interchange (DXing) and to participate in amateur radio contests. Grants exist for those interested in starting this hobby as well as for seasoned hams.
Amateur Radio Associations
Organizations that advance the study of amateur radio can be resources for financial support. The American Radio Relay League is the largest amateur radio society in the United States. The ARRL awards grants to new initiatives by amateur radio organizations. Grants are usually one-time awards and range from $1,000 to $3,000. There are three types of grants awarded: the CW Operators Educational Fund for projects that involve morse code, the Victor C. Clark Youth Incentive Fund and the World Radiosport Team Championship (WRTC) Youth Grant exclusive to the WRTC 2014 in New England.
Grants for Schools and Teachers
Grants are available to educators to demonstrate the importance of radio and to attract future generations of amateur radio operators. The Society of Amateur Radio Astronomers is an international nonprofit organization promoting radio astronomy. SARA awards Student and Teacher Project Grants to help introduce radio astronomy to the classroom and fund student research in the field. Preference is given to children in fifth grade through college for student grants. Award amounts are no more than $200.
College Scholarships
Individuals who are amateur radio operators can turn to local networking organizations not only for mentoring and educational information but also as resources to help pay for higher education. The Foundation for Amateur Radio Inc. administers 48 amateur radio scholarships for its member organizations located in Washington, D.C., Virginia, Pennsylvania, Maryland and West Virginia. The scholarships are open to any amateur radio operator who is enrolled as a full-time student in a post-high school program. The award amounts range from $500 to $5,000.
Emergency Communication
Amateur radio operators often lend their services to emergency personnel to improve communication flow during disasters. Operators who serve in this capacity often are registered with specific emergency response organizations such as the Amateur Radio Emergency Service (a division of the ARRL). The ARRL also administers Ham Aid" a program to provide emergency certification training for amateur radio operators. Ham Aid is funded by grants received from the Corporation for National and Community Service. In 2011, Ham Aid was used to provide instruction to ham operators to help with recovery efforts in Alabama in the wake of devastating tornadoes. Ham Aid equipment request forms are also available on the ARRL website.
References
Writer Bio
Beth Greene was first published in the "Journal Irish Historical Studies" in 2000. She holds a Bachelor of Arts from the National University of Ireland, Galway, a Master of Philosophy in medieval history from Trinity College, Dublin and a Master of Library and Information Science from the University of Wisconsin.