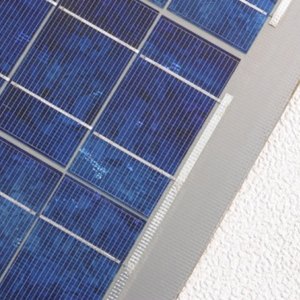 •••
Jupiterimages/Photos.com/Getty Images
Solar power can cut energy costs and increase home values, but the systems cost thousands of dollars, meaning it can take years before seeing a return on the investment. While many of the government's incentive programs, such as the SunShot Initiative, focus on lowering the costs for manufacturers to make solar power more affordable, there are several grants and other types of incentives for homeowners. The financial assistance can reduce large portions of the initial expenses for solar systems, meaning it takes less time to pay off the panels and see returns on the investment.
Energy Star
Homeowners can receive 30 percent off the costs for installing solar panels and other eligible renewable energy equipment through Energy Star. The U.S. Department of Energy and Environmental Protection Agency oversee the incentive program, which provides tax credits to anyone who installs qualifying solar panels by the end of 2016. Photovoltaic systems, which are panels that turn sunlight into electricity, and panels that convert sunlight to heat are both eligible for the tax credits. Wind, geothermal and fuel cell systems are also good for 30 percent off.
Rural Energy for America Program
Farm, ranch and small-business owners in rural communities can receive grants to knock off 25 percent of the costs of solar power installations and other renewable energy systems. The Rural Energy for America Program, administered by Rural Development, is open to applicants in rural communities of 20,000 people or fewer. REAP's 25 percent discounts have ceilings of $500,000 for energy systems. Energy efficiency projects are eligible for up to $250,000. For farmers and ranchers to be eligible, they must earn at least half of their annual income from agricultural production.
Energy Efficient Mortgages
Homeowners can finance the installation of solar power systems through their mortgages. Lenders can give homeowners up to 5 percent of their homes' values; 5 percent of 115 percent of the areas' median property values; or 5 percent of 150 percent of the Freddie Mac conforming loan limit -- whichever is the least amount. Loan amounts also may not exceed projected savings for homes' solar system installations. The federal government insures the bank loans through the Federal Housing Administration. The program applies to photovoltaic panels, solar heating panels, passive solar and solar water heating.
State and Local Grants
Grants and other solar power incentives are available from many state-level agencies throughout the U.S. Maryland's Energy Administration, for example, provides up to $500 to homeowners in the state through the Residential Clean Energy Grant Program. Financial assistance is also available at the local level in some cities. Boulder, Colo., provides grants to residents involved in an affordable housing program so they can install photovoltaic and solar heating panels. Homeowners can find information about what programs are available to them by contacting local or state energy offices. Websites, such as the Database of State Incentives for Renewables and Efficiency, also provide information about programs.
References
Writer Bio
Ed Stine began his journalism career in 2009. He is a business reporter for a community newspaper in central Indiana and he also contributes to its lifestyles magazine. Stine has a Bachelor of Arts in journalism from Ball State University.