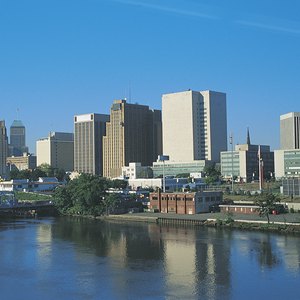 •••
Comstock/Comstock/Getty Images
As a coastal state, watersheds in New Jersey are especially important. The health and vitality of New Jersey's waterways, lakes and estuaries depends on the responsible and safe management of septic and wastewater systems. To help aid homeowners and cities in these goals, the state and federal governments provide financial assistance. Understanding the eligibility requirements for these programs and the projects they fund helps shed some light on the path toward financing.
Environmental Infrastructure Financing Program
The New Jersey Department of Environmental Protection is responsible for enforcing the federal Clean Water Act in the state. As septic systems and wastewater treatment can have a significant effect on water quality, the NJDEP's Environment Infrastructure Financing Program provides significant assistance to cities, counties and utility authorities to help improve water infrastructure. Among the projects eligible for assistance are "projects that involve the repair and/or replacement of individual septic systems through a Septic Management District," according to NJDEP. Applications are accepted from local governments and water utilities and are due annually at the beginning of March.
Clean Water State Revolving Fund Green Reserve
One of the NJDEP's funding sources for septic system financial assistance is the federal Clean Water State Revolving Fund. In 2009, 20 percent of this fund was earmarked for environmentally innovative projects "to address green infrastructure, water or energy efficiency improvements, or other environmentally innovative activities," according to NJDEP. According to guidance from the federal government, financial assistance from this fund is available to both publicly and privately owned projects and includes "decentralized wastewater treatment solutions," including septic tanks. NJDEP's Division of Water Quality accepts applications for assistance.
Municipal Grant Programs
Some municipalities in New Jersey -- especially those in environmentally sensitive areas -- have received grants from state-sponsored finance authorities to eliminate septic systems and finance new sewer connections. In 2010, grants from this program were awarded to Alloway and Quinton townships, which accept applications from homeowners interested in connecting, or required to connect, to the local sewer system. Assistance is available for up to $500 per property and is only eligible to assist with the physical costs of connection to the wastewater treatment system.
American Water Environmental Grant Program
In addition to state resources, private companies and organizations provide financial assistance for septic systems in New Jersey. American Water, a privately owned water utility corporation, provides an Environmental Grant Program. American Water's Environmental Grants are awarded to projects that improve watershed protection efforts, environmental management and point source pollution cleanup in American Water's service areas of the state of New Jersey. To be eligible, projects must demonstrate a measurable improvement in local water quality and benefit watersheds that feed utility systems managed by American Water. Applications are accepted annually, and are due in December.
References
Resources
Writer Bio
Matt Petryni has been writing since 2007. He was the environmental issues columnist at the "Oregon Daily Emerald" and has experience in environmental and land-use planning. Petryni holds a Bachelor of Science of planning, public policy and management from the University of Oregon.