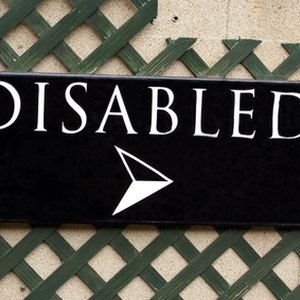 •••
sign. disabled. wc. toilet image by L. Shat from Fotolia.com
Federal, state and local governments offer grant programs to help people with disabilities and those in economic need. People can apply for some grants through state agencies and nonprofit organizations, and other grants are designed to help agencies provide better services.
Americans with Disabilities Act Technical Assistance Program
This federal government grant program is administered through the Civil Rights Division of the Department of Justice. The grant helps local and state governments, as well as non-profit organizations, provide technical assistance to people with disabilities by providing learning materials and facilities.
Automobiles and Adaptive Equipment Disabled Veterans
This federal grant, offered through the Veterans Benefits Administration Office of the Department of Veteran Affairs, helps disabled veterans who have been injured while on active duty. The grant provides direct monetary assistance for eligible veterans to obtain automobile and adaptive machinery that helps them move around easily.
Supplemental Nutrition Assistance Program (SNAP)
The Supplemental Nutrition Assistance Program, provided by the U.S. Department of Agriculture's (USDA) Food and Nutrition Service (FNS), helps millions of low-income individuals and families buy healthy foods. People can apply for this grant by completing a state application form. Benefits are received through an electronic card similar to an ATM card.
Developmental Disabilities Basic Support and Advocacy Grants
This program helps people with developmental disabilities become independent and productive in their communities. The federal grant provides support to states so they can meet the needs of people with developmental disabilities through administrative support and by refocusing existing services to better meet their needs.
References
Writer Bio
Kerri Miller is a very detail-oriented person who loves an opportunity to be creative. She has a lot of experience in writing of all sorts, both technical and non-technical. She has written poetry and had it published, and has more than eight years of experience in legal writing and book writing.