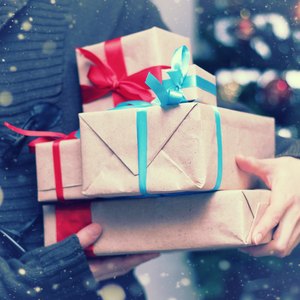 •••
alexkich/iStock/GettyImages
Buying craft fair ornaments to benefit a local church or non profit's food drive isn't the only way to easily gift philanthropic gifts anymore. Thanks to the rise of companies like Toms (who donates one pair of shoes for every pair purchased) and Warby Parker (who does the same but for eyeglasses), gifting nice, trendy gifts also comes with a heart. While not every company has a buy-one, give-one mission, there are plenty of worthy businesses out there who want to give customers a quality product, and change the world while doing here. Here are some ideas to keep in mind.
1. AmazonSmile
Most savvy internet shoppers know that Amazon has nearly every gift imaginable available on the platform. But what they might not know is that simply by shopping through its AmazonSmile portal on the site, 0.5 percent of the purchase price will be donated to a charity of the shopper's choosing. That's not a huge percentage, but if people are buying presents on the site, they might as well take advantage of the free donation.
Don't know which charity to donate to? That's ok. Amazon works with charities like the Best Friends Animal Society, the Boys & Girls Club of America and the American Cancer Society and will make suggestions for you. To use AmazonSmile, simply navigate to the site though their URL, choose a charity, and start shopping.
Visit Amazon Smile's website for more information.
2. WeWOOD
Trendy watch owners love nothing more than an eye catching timepiece, and that's exactly what WeWOOD offers. And they get bonus points for showing Mother Nature some love while they're at it. For every watch that's sold, WeWOOD donates one tree. They work with organizations like Trees For The Future, Treedom and American Forests, which has already led to over 500,000 trees being planted since 2011. Their goal is to make is to one million trees by 2020.
WeWOOD collaborates with these organizations to plant a tree for every wood watch purchased.
Visit WeWOOD's website for more information.
3. One World Play Project
Sports are one of the globally universal languages and One World Play Project leverages the concept of play to bring smiles to communities. It is simple: Buy one of their "ultra-durable" soccer balls and they'll donate one. Prices range from $40-$50, but there's also an option to simply donate a ball for $25 as well. The thought surrounding the organization is that millions of youths around the world don't even have access to something like a soccer ball. So, the founders started the organization to give away one million soccer balls – a goal they reached in 2014.
Originally, the organization specialized in soccer balls and named their B Corporation One World Futbol Project, but in recent years, they've expanded their product line to include dog toys as well. For every durable dog toy purchased, a portion of the proceed go to charities that specialize in pairing therapy dogs with people.
Visit One World Play's website for more information.
4. BoxLunch
Similar to Amazon Smile, BoxLunch offers all kinds of products to consumers, making a donation based on the final purchase price. They work with Feeding America to donate the equivalent of one meal for every $10 spent. Their products are quirky, nostalgic and offer a wider range of options than one might think. There are gifts from a throwback men's MTV TRL t-shirt to all kinds of Funko Pop! figurines and even novelty coffee mugs. It's definitely worth a look around to see what kind of unique buys there are for friends and family.
As for the donations, per their website, $1 provides at least 10 meals with Feeding America, but they've also guaranteed a minimum of 5,000,000 meals to be donated by January 31, 2018.
Visit BoxLunch's website for more information.
5. The Company Store
The Company Store's buy-one, give-one mission is simple: help bring warmth and comfort to a homeless child. For every comforter that's purchased, they donate one to homeless children throughout America through the Family Promise organization. They have a pretty surprising number of comforter options, from temperature-regulating comforters to eco friendly comforters, and the colors, patterns and styles are endless.
This organization offers everything imaginable when it comes to decorating a room, so while shopping, be sure to pick up a comforter as well and help a homeless child.
Visit The Company Store's website for more information.
6. Sevenly
Sevenly's business model is just one reason why they've been growing in popularity for several years. Their idea is simple: They run limited time seven-day campaigns, each that donates a portion of the proceeds to their own causes. For example, one might benefit veterans while another is helping the environment. They sell products like apparel, mugs, jewelry and many other items that become available during various campaigns.
They run several campaigns at once, which gives gifters the opportunity to find the perfect t-shirt, coffee mug or necklace for their loved ones. It's also a good way to find out about new organizations that may not get as much publicity as others. And they change campaigns often, so check back to see what's new.
Visit Sevenly's website for more information.
7. FEED
Many people have likely seen FEED pop up in a newsfeed, commercial or ad campaign over the years, and they're still going strong. Founded in 2007 by Lauren Bush after she traveled the world, this organization helps fight the battle against hunger.
Since then, FEED has worked with artisans in countries like Colombia, Guatemala, Haiti, India and Kenya to produce both environmentally friendly products and to help create sustainable livelihoods for people. So, how much of each purchase is donated? Inside every bag is a stamped number signifying how many school meals or micronutrient packets are donated from the proceeds.
They've come a long way from their signature burlap look, but that's still available for purchase as well.
Visit FEED's website for more information.
8. Love Your Melon
Another way to give to charity while gifting apparel and accessories is through Love your Melon. This organization has donated over $2.7 million to help children in the US who are battling cancer. Initially, the goal was to donate 45,000 beanies, but the organization quickly reached that and to-date have given away over 123,706 beanies. 50% of the proceeds from other purchases are donated to help fund research. Priced around $30-$50, their beanies are a big hit, and many are already sold out.
Visit Love Your Melon's website for more information.
9. Faucet Face
It's hard to go anywhere without seeing people carrying around water bottles, which makes them a great gift idea. But before buying one, take a look at what Faucet Face has to offer. Their stainless steel bottles and glass hummingbird feeders help bring clean water to countries like India. Their BioSand water filter is donated through their 1 for 100 program, which operates through donations from 2.5 percent of sales. Additionally, delivering and assembling these filters provides jobs for people in places where they need clean water.
For the giftee, the best part is the affordability of their products. Their large 25 oz. water bottle only costs $25.
Visit Faucet Face's website for more information.
10. Panda
Eco friendly and philanthropic – before you gift a pair of designer sunglasses, give Panda a try. For every pair of sunglasses purchased from their Original or Ultralight collections, Panda donates an eye exam and new glasses to someone in need. They work with the non-profit Optometry Giving Sight to make this happen on a global level. Panda also uses eco friendly bamboo, making these sunglasses one of the most sustainable out there.
Visit Panda's website for more information.
Writer Bio
Natalie has her BA from University of California, Riverside and has worked in digital media for over a decade. She has been a Bleacher Report featured columnist for Bleacher Report and created content for some of the leading companies in the financial space.