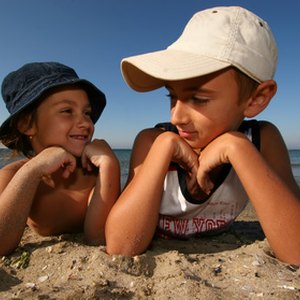 •••
children image by Orlando Florin Rosu from Fotolia.com
There are many charitable organizations and foundations, both national and international, that aim to improve the lives of special needs children. Some organizations provide services, educational resources and physical assistance, while others advocate for their legal and educational rights, or raise money to help families pay for their medical bills.
Federation For Children With Special Needs
The Federation for Children with Special Needs is a federation of parents, and parent organizations, that network together to help children with special needs and their families. Developed in 1975 to advocate for children with special needs, the federation provides resources to help families and children find the help they need. This can include parent training, and information about the child's disability, and specialized assistance and training from professionals. It also provides families with someone else to discuss problems with, and help in seeking solutions for the problems they face caring for a disabled child. This organization does accept donations and hosts many charitable events to raise money for their services.
National Dissemination Center for Children With Disabilities
The National Dissemination Center for Children with Disabilities (NICHCY) is a foundation that focuses on disabilities present in infants, toddlers, children and youth. They work to educate teachers, parents and schools, and advocate for special education. The foundation also advocates for laws for children with unique and special needs, such as the Individuals with Disabilities Education Act (IDEA) – which serves as a guide for how school districts are to approach special education for disabled children.
UNICEF
One of the most well-known charities to focus on children's special needs is UNICEF. The United Nations formed UNICEF in 1964 in a bid to provide food and clothing for children suffering in the aftermath of World War II. UNICEF's mandate is to protect and assist children who suffer from poverty, violence, disease and discrimination. UNICEF is part of the Global Movement for Children, a coalition that aims to improve the life of children through donations and action, such as providing adequate medicine for diseased children, or food for children suffering from poverty.
The Special Kids Fund
The Special Kids Fund is an umbrella charity organization that works with schools, hospitals and other service organizations to help provide for children with special needs. Assistance may come in the form of medical assistance, or access to expensive equipment and facilities, to help improve the quality of their lives. SKF participates in fundraising programs to solicit money from online customers; they also accept monetary donations, as well as stamps, coins, jewelry, fine art and other collectibles.
References
Writer Bio
Krista Martin has been writing professionally since 2005. She has written for magazines, newspapers and websites including Live Listings, "Homes & Living" magazine and the "Metro Newspaper." Martin holds an honors Bachelor of Arts in English from Memorial University of Newfoundland and a Master of Journalism from the University of Westminster.