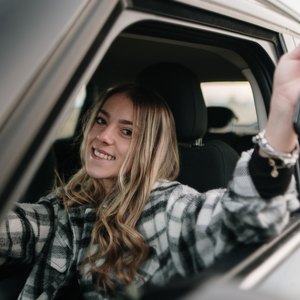 •••
MarioGuti/iStock/GettyImages
Car insurance covers the cost of damage to a vehicle or the medical costs and additional expenses of people injured in a car accident. Most states require some type of liability insurance policy, which means your insurance company will pay for personal injury and property or vehicle damage in an accident.
You can also purchase other types of insurance, including collision damage, to cover your own vehicle in an accident, and comprehensive coverage, which covers theft or damage to your car that may happen while you're not driving.
Understanding Car Insurance Costs
Auto insurance rates vary widely based on many factors, including the type of car you drive, your driving record and how long you've been driving. New drivers and young drivers can expect to pay more for car insurance premiums because they are considered a greater risk on the road and more likely to have an accident.
However, new drivers can find cheap car insurance quotes, and there are ways to reduce insurance costs. The best car insurance for new drivers would be an affordable policy that provides all the financial protection they need in the event of an accident, with ways to reduce insurance premiums through safe driving, good grades and even accident forgiveness policies.
Why Insurers Consider New Driver High Risk
The Safe Roads Alliance, Inc. revealed that 43 percent of first-year drivers and 37 percent of second-year drivers have car accidents each year. Young drivers also have higher rates of accidents, per percentage of drivers, than other demographics. People ages 15 to 20 make up only 6.7 percent of all U.S. drivers, but are involved in 20 percent of crashes and 14 percent of deaths. Additionally, 65 percent of teen passenger deaths occur in a car with a teen driver.
The statistics make it clear that new drivers and young drivers present the highest risk to insurance companies, with the greatest chance of an accident and bodily injury to themselves, passengers or others on the road. But who exactly is considered a new driver in the eyes of insurance companies?
New Drivers: Who Is Considered a New Driver?
Most insurance agencies consider anyone under the age of 25 as a young driver. New drivers are those with less than three to five years of driving experience, regardless of age. However, some insurance companies require you've had your driver's license for nine years before they take you out of this high-risk driver category. And some insurance companies don't look at your driving experience at all, but only consider your age.
Typically, even if you are under the age of 25, certain aspects of your lifestyle can help you save money on car insurance, taking you out of the high-risk category sooner than your peers. Shop around for car insurance quotes from car insurance companies that offer these discounts if you must have your own policy and can't be added as a driver to your parent's existing policy.
Discounts for Young Drivers
Teen drivers are in a tricky category where car insurance can cost more than twice as much for their own policy as being added as a driver to their parent's existing policy. However, having a teen driver in your home can also add to your car insurance costs substantially.
Of course, teen drivers and their parents want to find the best car insurance that has the best rate for your situation. Insurance companies offer discounts for safe driving and other factors.
​Good Student Discount –​ Teen drivers, high school students and college students may find a company that offers a "good student discount," which reduces your car insurance costs as long as you maintain a good average in school.
Ten of the top insurance carriers all offer a good student discount. In most cases, you need to maintain a 3.0 GPA in college or an 80 or B average for high school students. Discounts range from 7 percent up to 25 percent or more.
​Defensive Driving Discount –​ One study showed that first-year drivers who took advanced driver training reduced their chances of an accident from 43 percent down to 4.6 percent, a substantial drop that can also result in a huge car insurance rate reduction.
Even people who have been driving for years can earn the best rate by taking a defensive driving course. New drivers should definitely consider this tactic to save money and to stay safer on the road, potentially saving lives as well as money.
​"Away at College" or "Limited Mileage" Discount –​ If you're a teen driver who only drives to and from work and school, you may be able to save money if you show that you put very low mileage on your car each month. Similarly, college students who are away at school and leave their car at home, only to use during college breaks, can get discounts. If you drive away to school but then leave your car parked on campus and don't use it much during the school year, you may also qualify for a college student discount.
Cheap Car Insurance for New Drivers
Regardless of your age, if you've only had your driver's license for a few years, you may be subject to higher car insurance rates. One easy solution if you are over 25 is to find a company that doesn't determine rates based on the length of time driving, but on your age.
But even if you're under 25, you can find driver discounts from reputable insurance companies for a number of reasons. Shop around for car insurance quotes and compare policies and discounts.
​Bundle Your Policy –​ Young adults who rent an apartment and have renters' insurance can save money by bundling their auto insurance policy with their renters' insurance through the same company. If you have other insurance policies, such as life insurance, you may also ask about discounts.
​Allow Your Insurer to Track Your Driving Habits –​ Insurance companies today have ways to track your driving habits, including your speed. If you agree to installing one of these devices in your car or using the insurance company's mobile app, you'll receive a discount. If you show that you're a safe driver, you can earn additional discounts. Students can also take advantage of these devices, called telematics, for additional discounts beyond a "good grade" discount.
​Find a Policy with Accident Forgiveness –​ If you think you may get into an accident, a policy with accident forgiveness can help protect you against insurance rate increases. On the other hand, if you're a safe driver and want to bet that you won't get into an accident or get any moving violation tickets, look for a company that rewards a safe driving record.
​Limit Your Coverage –​ If you own your vehicle outright, you can save money by skipping collision and comprehensive coverage. You only need to carry the liability insurance required by law in your state.
Of course, any driver can take a defensive driving course for discounts off their auto insurance policy.
Should You Put a Teen Driver on Your Own Policy Instead?
Some parents consider saving their new drivers money by keeping them on their own policy. Certainly, this can result in substantial savings, but if the new driver gets into an accident, it could result in higher rates for quite a while, unless you have accident forgiveness on your policy.
Putting your young driver in charge of their own car insurance is a great way to build a sense of responsibility and limit risk to yourself and your own finances. But it's a personal decision for each family.
Also, remember that if you put your teen or young driver on your policy, you can still take advantage of good student discounts and the other driver discounts listed above.
References
Writer Bio
Dawn Allcot is a full-time freelance writer, content strategist, and founder of GeekTravelGuide.net, a travel, technology, and entertainment website. A seasoned finance writer, her work has appeared on Forbes, Bankrate, Lending Tree, Solvable, Moneycrashers, and many other personal finance sites, including the award-winning Chase News & Stories portal. With more than 20 years editorial experience, Dawn seeks to take complex concepts and simplify them for today's busy readers. Whether she is writing about taxes or technology, her goal is always to educate, inform, and entertain.