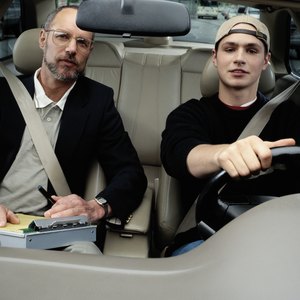 •••
Ryan McVay/Photodisc/Getty Images
A teenager doesn't have to own a car in order to get separate car insurance from his parents. Typically, a teen becomes eligible for his own policy the moment he receives a driver's license and operates a vehicle. However, just because a teen can get his own policy doesn't mean he should.
Staying on Parents' Policy Usually More Economical
When teens begin driving, they are typically added to their parents' existing insurance policy. This is because teens typically pay higher rates when they sign up for their own. Although the parents' rate may also increase as a result of adding the teen driver, they are usually eligible for discounts the teen could not get on his own. For example, their policy may be discounted because they insure multiple cars, have a clean driving history of several years, work in certain professions, or because they are married. However, if a family decides it's best for the teen driver to have his own insurance policy, there may be ways to bring the cost of his policy down. A major one is providing the teen with an older, inexpensive vehicle. This is because a car's value \affects the cost of insurance. Additionally, if the teen gets good grades, he may be eligible for a good student discount. Depending on the insurance company, discounts for low mileage and completing a driver's education course may also be available.
References
Writer Bio
Based on the West Coast, Mary Jane Freeman has been writing professionally since 1994, specializing in the topics of business and law. Freeman's work has appeared in a variety of publications, including LegalZoom, Essence, Reuters and Chicago Sun-Times. Freeman holds a Master of Science in public policy and management and Juris Doctor. Freeman is self-employed and works as a policy analyst and legal consultant.