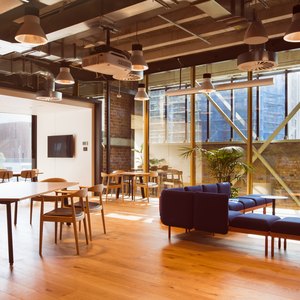 •••
Nazar Abbas Photography/Moment/GettyImages
Furniture vouchers are, as the name implies, vouchers that will allow those granted them to get furniture. These are traditionally reserved for low-income families who would not otherwise be able to afford furniture for their homes. In New York City, you need to contact the Housing Authority via social services and to apply for the vouchers by proving your need.
Apply for the SEPS Program
Furniture vouchers are issued through a program called the Special Exit and Prevention Supplement program, which exists to help reduce homelessness in New York City. SEPS issues vouchers to adults and families on the verge of entering shelters so that they can find housing. To be eligible for SEPS vouchers, you'll need to earn an income lower than two times the poverty level and receive some sort of public assistance, including disability. Currently, the poverty level for a family of four is $25,100, which mean your household income must be less than $50,200 for the purpose of receiving SEPS assistance.
In addition to a voucher that pays up to 70 percent of your rent (maximum of $1,500 a month for a family of four), SEPS also offers vouchers for furniture to some who are eligible. You may also qualify for a voucher to pay for your security department, as well as four months rent in advance. Vouchers are renewable for up to four years as long as the family qualifies and the program's funding continues.
Apply at Community Helping Hands
Community Helping Hands is another New York organization that gives out furniture vouchers. Applicants must present a referral from either a social services worker, local church or another charitable organization. To be approved for a furniture voucher, individuals and families will also need to come in for an interview. If accepted, it is strongly encouraged that recipients volunteer with the organization.
Getting Your Vouchers
If you're staying in a shelter, your case manager should be able to help you connect with the program. Local community organizations can also help. Your case manager or a community organization may also help you line up moving assistance.
Go through the steps necessary to get your voucher. If you qualify, the SEPS program will also work with you to help you find stores that accept your voucher. This same specialist can help you find a landlord who will accept your voucher to help pay for your rent, depending on the type of assistance you're receiving.
Spending Your Vouchers
Take your voucher to the location where furniture is distributed. Choose your furniture and hand over the voucher as payment for the program. Once you've used the voucher, you should have furniture to put in your home. If you're getting moving assistance from SEPS, have your case manager see if they can help get your furniture from the store to your new home.
References
Writer Bio
Neal Litherland is an author, blogger and occasional ghostwriter. His experience includes comics, role playing games and a variety of other projects as well. He holds a bachelor's degree in criminal justice from Indiana University, and resides in Northwest Indiana.