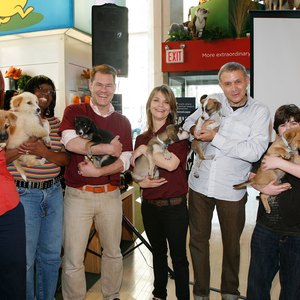 •••
Amy Sussman/Getty Images Entertainment/Getty Images
Although countless stories of animal abuse blight the United States, thousands of rescue groups, led and supported by people who care, are making a difference. It takes money to run spay, neuter and release programs, to rescue and care for and find homes for neglected or otherwise mistreated animals. Hold fundraisers that grab attention, educate, garner support and leave participants, whether they're dropping cash into a box or paying a fee, feeling good about the part they play in the effort to help animals.
Companion Animal Events
Bake treats for both the animals and their humans, such as molasses horse cookies and cupcakes with icing hoof prints. Or recruit a cake decorator to make small cakes that look like animals. Hold the sale somewhere with lots of traffic from owners and fans of your rescue group's animal, such as an equestrian center, pet supply store, shelter, kennel, vet, groomer, etc. Organize a "Hogs for Dogs" -- or for a variety of species, a "Critter Run." Ask a local group of bikers to ride for your cause. Others donate to ride with the bikers and enjoy the barbecue and live music. Plan a talent show for companion animals; ask businesses to donate prizes and charge entry fees.
Wildlife Rescue Fundrasing Events
Follow the example of animal- and people-friendly Wildlife Images in Grants Pass, Oregon. Create a gift shop that sells wildlife theme such as T-shirts and hoodies -- with your logo -- and books. Garner community interest at events and schools with an ambassador resident animal and wildlife expert. Hold after-dark tours, but please limit flashlights to staff and volunteers who know how not to startle the animals. For a wolf sanctuary, hold a monthly "wolf howl" with a campfire program. Guests howl with the wolves and listen to Native American storytellers and wolf experts.
Barnyard Animal Benefits
Raise funds for your farm animal rescue group by hosting a vegetarian feast at the farm, complete with live music and games. If some of the animals are now comfortable with people, add a petting area and pony rides. Depending on your space, jump on the agtourism bandwagon: Rent rooms, a guesthouse or a bunkhouse, and provide farm -- and animal-friendly -- activities such as feeding the baby calves, enjoying garden-to-table foods, gathering fresh eggs from free-ranging chickens and observing natural horsemanship sessions. A swimming pond would add to the fun. You could charge for day and overnight visits.
Publishing for Pups -- and Other Four-Legged Friends
Create books to sell at stores, relevant community events and online. Create a cookbook for your rescue group's species, and ask members to donate their animals' favorite recipes and include an anecdote or bio. Ask a vet to look over the recipes and leave his stamp of approval on the book. Alternatively, invite animal-loving celebrities for their pets' favorite recipes. Or, create a collection of prose, poetry, photographs and illustrations about animals of the types your group rescues. Give proper acknowledgements in the book and a copy to each contributor. Publish via desktop publishing, a local printer, fundraising company or self-publishing online venue.
References
Resources
Writer Bio
Cindy Blankenship, a California native, began reporting in 1996 for the Grants Pass Daily Courier after teaching in Hawaii where she lived 14 years. As assistant editor at the Rogue River Press, she wrote and edited several stories that earned awards from the Oregon Newspaper Publishers Association. Her writing appears in numerous publications.