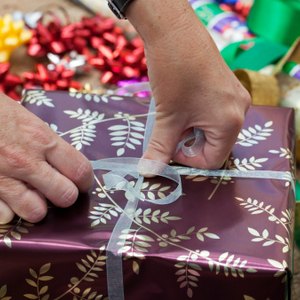 •••
Andrew Dernie/Photodisc/Getty Images
You don't have to spend a lot of money to come up with a Christmas gift for a man in your life. Many men prefer gifts they can use over gifts that are merely meant for decoration. Think about the man's hobbies and interests when you start looking for an inexpensive gift.
Tools
Give him a gift that allows him to be a handy man around the house. Choose a tape measure or a laser level so that he can be sure he is hanging things evenly. Many other tools are fairly inexpensive, such as hammers, screwdrivers or tool accessories, like nails, screws and drill bits.
Sports
Lots of men enjoy playing sports. Choose a gift that helps him partake of his favorite sport. For a golfer, select tees, golf balls and ball markers. If he enjoys tennis, buy him a tube of tennis balls. A new helmet is the perfect gift for the man who likes to go biking on the weekends. Buy a reusable water bottle for someone who likes working out. You could also choose a sports-themed gift that he can use in his everyday life; give him a tie with his favorite sports team's logo on it.
Entertainment
Look for a book by his favorite author. Go with something that is already out in paperback, as paperback books are normally much less expensive than new, hardback versions. Maybe he is a movie buff. In that case, buy him a few DVDs. Choose DVDs of a particular genre, such as thrillers, comedies or westerns. If he has a favorite actor, buy him several DVDs of movies the actor stars in. Many men listen to a lot of music. Buy him a CD, T-shirt or poster of his favorite singer or band. If he has an MP3 player, give him a gift certificate for music downloads.
Edibles
It's no secret that many men love to eat. If that describes the man you are shopping for, make him an edible gift for Christmas. Bake a batch of his favorite cookies and put them in a colorful Christmas tin. You could also bake a loaf of cinnamon raisin bread, a pie, cake or any other sweet item he enjoys. Maybe he enjoys cooking. In that case, give him the recipe of one of your best dishes. Write the recipe on a piece of card stock and place it in a casserole dish, soup pot or some other cooking dish. Include all of the nonessential ingredients needed to prepare the dish.