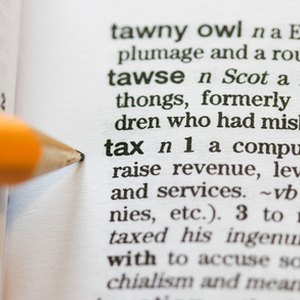 •••
tax defined image by Christopher Walker from Fotolia.com
Internal Revenue Service (IRS) tax laws on foreign currency exchange trading in the foreign exchange (forex) market are somewhat confusing. In addition, the people making the trades have changed. The IRS formulated its tax laws to deal with the retail interbank forex market with professional traders making large trades. However, the larger banks created a variety of retail trading options and opened forex trading to small traders. Around 2000, small traders flowed into the market. Many individual investors make online currency trades for small amounts ranging from $2,000 to $25,000.
IRC Section 988
Under Section 988, the IRS treats profits and losses from foreign currency exchange trading as ordinary profits and losses for tax purposes, according to the U.S. tax code. Most forex trades falls under the tax laws in Section 988 by default. Losing traders prefer the Section 988 tax laws because it eliminates capital loss limitations. Thus, most traders can enjoy the full ordinary loss deduction against any type of income by reporting the profit or loss from cash forex trades as other income on line 21 of IRS Form 1040.
However, most traders can opt out of the Section 988 election of treating forex trades in that method. The IRS taxes qualifying trades according to Section 1256 laws (see Section 2). Trades on forex over-the-counter (OTC) options do not qualify for Section 1256 tax laws. As of 2010, IRS regulations require traders to opt out of Section 988 by filling out a form at the beginning of the tax year before they know whether they have a profit or loss. Rather than filing the form with the IRS, however, taxpayers file it internally—in other words, in their personal records.
Section 1256
Profitable traders prefer the more favorable tax treatment of capital gains and losses on foreign currency exchange trades in major currencies under Section 1256(g). The IRS gives lower tax rates under that section, so it reduces these traders' taxes on trading profits. IRS taxes apply to only 40 percent of any short-term capital gain or loss and 60 percent of any long-term capital gain or loss. Report profit or loss on Form 6781 as "cash forex elected out of IRC 988," according to tax experts Green & Company Inc.
In addition, traders using Section 1256 can take a three-year carryback on losses against profits for the prior three years on profits and losses declared under Section 1256.
Background
The confusion on IRS tax laws on foreign currency exchange trading stems from the lack of one uniform law to govern forex trading. Sections 1256 and 988 have some conflicts because different IRS groups wrote those sections in different decades, according to Green & Company.
Traders with specific tax questions about foreign currency trades should consult a tax attorney or an accountant who handles forex trade matters.
References
Writer Bio
Jeanne Young began writing professionally in 2000. She was the government reporter for a daily newspaper in central Florida. Young has also covered general assignment and the business, health, science, environment and education beats for newspapers and a wire service, and written about money and politics. She holds a Bachelor of Arts in English from the University of South Florida.