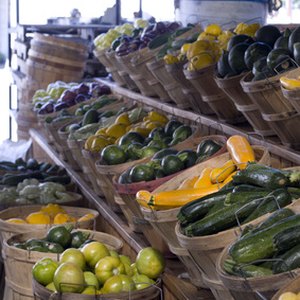 In Oregon, the official new name of the governmental food stamp program is the Supplemental Nutrition Assistance Program, which often goes by the acronym SNAP and has replaced the traditional food benefit program. Recent changes to the program have put an emphasis on giving all Oregonians reliable access to a wide variety of nutritious foods. Factors related to income and residency are the main food stamp requirements in Oregon.
Overview of the Program
The SNAP program in Oregon is administered by the Department of Human Services—Children, Adults and Families Division. That organization determines eligibility and puts the emphasis on helping households, especially those with growing children, meet family members' nutritional needs. Therefore, recipients of food stamps (which are not actually stamps anymore but rather an electronic benefits transfer card) are not necessarily starving; they merely need help getting enough of the right foods. As of May 2009, according to the state's website, about 602,000 individuals representing 313,000 households received food benefits.
Determining Eligibility
Begin your quest for food benefits by finding out if you are eligible. To do this, contact Oregon SafeNet at 800-723-3638 or go to the state's website to find out where the closest aid office is. You can fill out an application in person or download it from the state's website and mail or fax it in. Once your application is received, you will be called in to the aid office for an appointment. At the appointment, you will need to show a form of photo identification, provide Social Security numbers or cards for everyone in your household who wants benefits, provide proof of your income and housing costs and provide proof of legal status or citizenship for all of the people in your household who want benefits.
Income Requirements
To be eligible for Oregon's food assistance program, residents must have a monthly net income no higher than 100% of the poverty rate. For a single person, this is $903 as of 2010. For a family of four, it is $1,838. For a family of eight, it is $3,085. When you visit or call your local assistance office, someone will help you determine the income eligibility for your particular family.
Benefit Levels
The state agency determines a household's allotment, or the amount you will receive in food assistance, by calculating 30 percent of your net income and subtracting the result from the maximum allotment for your household size. This calculation reflects the assumption that SNAP households are expected to contribute about 30 percent of their resources to the purchase of food, according to the government's website. For a family of four in 2010, the maximum monthly allotment is $668.
Employment Requirements
Because the state prefers to see food assistance recipients making an effort to provide for themselves, general employment requirements stipulate that able-bodied adults not caring for young children must be registered as job-seekers, accept suitable employment if offered and take part in a governmental employment and training program. Adults can generally get food assistance benefits for three months out of a 36-month period if they are not participating in a workfare or employment training program. There are some exceptions to this rule.
Immigration Status
SNAP benefits are generally restricted to legal immigrants who, if they are adults, have lived in the U.S. for at least five years. Exceptions are made for children and the disabled.
Participating Stores
To accept SNAP benefit cards, stores must offer for sale at least three of the following four categories: breads and grains; dairy; fruits and vegetables; meat, poultry and fish; or must have at least 50 percent of total sales in these staple groups.
References
Writer Bio
Nancy West has been writing professionally since 1990. Her work has appeared in the "Boston Globe," "North Bridge Magazine," "Outdoors Magazine," "Concord Academy Magazine," boston.com and various other publications. She writes frequently about issues related to family life, recreation, health and community. West graduated from Simmons College with a Bachelor of Arts in English in 1989.