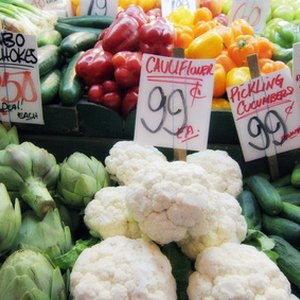 The Supplemental Nutrition Assistance Program, also known as food stamps, helps low-income Americans put nutritious food on the table. Eligible families receive a monthly cash payment to buy food that is determined by their household size and income. Benefit amounts vary, but all recipients receive a benefit equal to or greater than the established minimum benefit amount.
Minimum Food Stamp Benefit Amount
As of 2011, the minimum benefit for food stamp recipients is $16 per month. The amount was raised from $14 in 2009 as a result of the Economic Stimulus Plan. In most cases, food stamp recipients who receive the minimum amount are single people with incomes on the higher end of the income limits. According to the U.S. Department of Agriculture, in 2008 the average food stamp benefit amount was $227 per household.
Calculating Food Stamp Benefits
Food stamp benefits, called an allotment, are calculated according to the USDA's estimates of the cost of a month's worth of groceries for the household size. There is a maximum monthly allotment for each household size; as of 2011, the maximum allotment for a family of four is $668 per month. The USDA expects households to contribute at least 30 percent of their income towards food expenses, so to calculate the amount of the food stamp benefit, the household's net monthly income is multiplied by 0.3, and the result is subtracted from the maximum allotment. If the amount of the calculated allotment is less than $16, then the household receives $16 per month.
Other Assistance Programs
Most households that qualify for SNAP benefits, even if they receive the minimum benefit, qualify for other assistance programs as well. SNAP recipients are generally automatically eligible for the Low-Income Home Energy Assistance Program, which assists with heating and cooling costs, and in some states, you can also receive assistance with electric and phone bills. If you are pregnant, nursing, or have a child under age five, you may also qualify for Women, Infants and Children benefits to help buy infant formula and healthy food for you and your child. You can earn up to 185 percent of the federal poverty level to qualify for WIC benefits, which can supplement your food budget if you only qualify for the minimum food stamp amount.
Food Stamp Eligibility
In general, households with a gross monthly income equal to or less than 130 percent of the federal poverty guidelines for their household size are eligible for SNAP benefits. If there is an elderly disabled person in the household, then the household is eligible if the net monthly income is equal to or less than 100 percent of the federal poverty level. Food stamp recipients must be U.S. citizens or qualified non-citizens.
References
Writer Bio
An adjunct instructor at Central Maine Community College, Kristen Hamlin is also a freelance writer on topics including lifestyle, education, and business. She is the author of Graduate! Everything You Need to Succeed After College (Capital Books), and her work has appeared in Lewiston Auburn Magazine, Young Money, USA Today and a variety of online outlets. She has a B.A. in Communication from Stonehill College, and a Master of Liberal Studies in Creative Writing from the University of Denver.