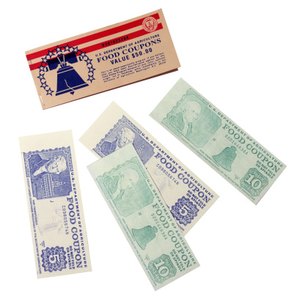 •••
Brand X Pictures/Brand X Pictures/Getty Images
In Kentucky, the state's food stamp program is operated in conjunction with the U.S. Department of Agriculture and the Kentucky Department of Community Based Services (DCBS). The goal of the program is to provide residents with funds every month to purchase groceries. It is sometimes referred to as SNAP (Supplemental Nutrition Assistance Program).
Kentucky residents must still apply through their own state using the KYnect benefits portal even though this is a federal program. While the Kentucky food stamps program is not new, many people are entering the program for the first time to utilize new KY food stamps coronavirus extensions.
How Much Money Can You Make While Getting SNAP?
Eligibility is determined by income limits. The food stamp income limits KY residents face depend on household income. However, anyone researching the food stamp income limits KY residents are subject to should be aware that a new Kentucky food stamp law has created some changes for how Kentucky residents apply for food benefits.
In response to COVID-19, Kentucky is issuing waivers to protect the health of participants. This includes waiving both initial and re-certification interviews for participants.
About Kentucky Food Stamps
Participants in the Kentucky Food Benefits program are provided with EBT cards. These cards can be used to purchase foods from participating retailers. When you sign up for the benefits program, you are provided with an Electronic Benefits Transfer (EBT) card and a Personal Identification Number (PIN) in the mail that will be used to access your food stamp benefits.
Generally, any food can be purchased using your Kentucky food stamps EBT card. However, ready-to-eat hot foods are not eligible. Kentucky food benefits are deposited into a participant's account each month.
Food Stamp Income Limits KY Residents Should Know About
You must be a resident of Kentucky to qualify for the state's food stamp program. Additionally, you must be under a certain income threshold. These thresholds shift based on how many members are in your household. Here's the full list of food stamp income limits in KY before taxes:
​Number of people in household:​ 1
​Income limit:​ $16,744
​Number of people in household:​ 2
​Income limit:​ $22,646
​Number of people in household:​ 3
​Income limit:​ $28,548
​Number of people in household:​ 4
​Income limit:​ $34,450
​Number of people in household:​ 5
​Income limit:​ $40,352
​Number of people in household:​ 6
​Income limit:​ $46,254
​Number of people in household:​ 7
​Income limit:​ $52,156
​Number of people in household:​ 8
​Income limit:​ $58,058
Additionally, you must meet the requirement of having a current bank balance that represents a combined savings and checking total of ​$2,000​ or less. That limit is bumped up to ​$3,000​ if you share your house with anyone who is disabled or over age 60.
Pandemic KY Food Stamp Provisions
Under a new Kentucky food stamp law that's part of the KY food stamps coronavirus relief program, a special KY food stamps coronavirus "Pandemic EBT" is being sent to families whose children receive free or reduced meals at school to cover the extra cost of groceries for virtual learning days. While EBT cards are being mailed to students who are not existing SNAP participants, households with existing SNAP benefits will see the benefits added to their existing household cards under the new Kentucky food stamp law.
What Is the Income Limit for Medicaid in KY?
To qualify for Medicaid in Kentucky, a person must be a Kentucky resident in need of health insurance who can be characterized as either "low income" or "very low income." For 2021, a single applicant can qualify with a monthly income of up to ​$794​ a month. A married couple can qualify with a combined income of up to ​$1,191​ a month.
References
Writer Bio
Adam Luehrs is a writer during the day and a voracious reader at night. He focuses mostly on finance writing and has a passion for real estate, credit card deals, and investing.