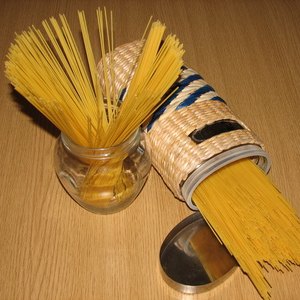 Food pantries help many populations during a tough economy. Even people who think they will never need such a service can find themselves asking for help. Providing those in need with quality food helps them get through tough times. When contributing items to a food pantry, organizations like the Emergency Shelf Network suggest non-perishable items that last a long time on the shelf.
Canned Meats
Meat items act as the foundation to many meals, and constitute an important source of protein which gives us energy for everyday tasks. Canned items like tuna and chicken make for easy donations and add variety to the dinner table.
Peanut Butter
Jarred nut butters also make a reliable source of protein, and you can donate them to food banks with little fuss. Children particularly enjoy items like peanut butter which make it a good choice for families.
Canned Vegetables
Vegetables serve as a strong source of vitamins and minerals necessary for healthy body functions. They also make good complimentary items to serve at any meal and can serve as a meal on their own. Consider low-salt options for adding variety to the food bank inventory.
Canned Fruits
Fruits of any variety make healthy, refreshing treats. Look for fruit mixed with light syrup, or fruits stored in their own juices as the most health-conscious options.
Canned Milk
Cooks use milk products in a variety of recipes and people often consume them directly, making them good items for consumers to have on hand. The canned varieties are very shelf-sturdy for food pantries, as well as the cartons that you store at room temperature before opening. You can find a large array of milk products with this type of packaging, including soy, coconut, almond and condensed varieties.
Beans
Beans appear in a wide selection of recipes and add significant protein to any diet. People can use them as a main dish or as part of casseroles and chili. Because of their multiple uses and durability for storage, they make an excellent food pantry donation.
Pasta
Pasta can appear in numerous recipes such as chili and casseroles. Because it is popular with most age groups, pasta makes a popular choice for food pantries. You can select from multiple options, such as whole wheat and gluten-free pastas, when making a donation.
Instant Oatmeal
Breakfast constitutes a key meal for the day, so providing cereal options like instant oatmeal makes a reliable donation. Choose a multi-flavor pack to provide recipients with options and consider low-sugar varieties as well.
References
Writer Bio
Based in the Midwest, Gina Scott has been writing professionally since 2008. She has worked in real estate since 2004 and has expertise in pop culture and health-related topics. She has also self-published a book on how to overcome chronic health conditions. Scott holds a Master of Arts in higher-education administration from Ball State University.