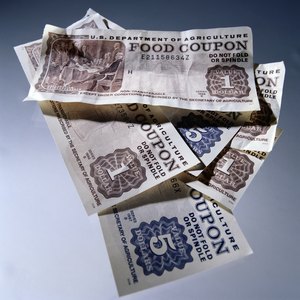 •••
Spike Mafford/Photodisc/Getty Images
The Supplemental Nutrition Assistance Program, formerly known as food stamps, provides food support to individuals and families in New York and across the United States. Eligible and excluded food purchases are defined by an Act of Congress and therefore uniform across the country. However, New York has specific initiatives for food stamp recipients to encourage healthy eating.
Eligibility Requirements
SNAP benefits are provided to low-income families and individuals in New York. Food stamps eligibility is determined in part by household income and available resources. For example, households can't have more than $2,250 in countable resources ($3,500 for households who have a family member with a disability or a family member who is over the age of 60). When it comes to income, generally families with a gross income that is 130 percent below poverty level guidelines qualify. That means a couple can make up to $1,784 and a family of four $2,720 and still be eligible for food stamps.
Food Stamp Distribution
Once approved, benefits are applied to an Electronic Benefits Transfer card on a monthly basis. Each state has their own issuance date based off of the last number on your EBT card. For example, if your card ends in a seven in New Jersey, you'll get your benefits on the 4th of the month. If you live in California and your card ends in a seven, then you won't get your benefits until the 7th of the month.
Food stamp recipients can use their EBT cards at authorized retailers and participating farmers' markets in New York. SNAP recertification is up to each district; however, the typical time period is one year. You will still be required to update social services if you have any income or family size changes in between your acceptance and recertification period.
Allowable Food Purchases
SNAP benefits can be used to purchase breads, cereals, fruit, vegetables, meat, fish, poultry and dairy products, as well as seeds to grow foods.
There are a number of exceptions to this list. For example:
Hot food is excluded, although bread still warm from baking is allowed
Food prepared for in-store consumption is excluded, although prepared sandwiches to be eaten away from the store are allowed
Energy drinks are excluded if they have a "supplement" label, but allowed if they have a "nutrition" label
Ornamental gourds are excluded, but edible pumpkins are allowed
Gift baskets are allowed, as long as the value of the food items is at least 50 percent of the package cost.
Other products designed for consumption – including soft drinks, candy, ice cream and snack crackers – are eligible.
Excluded Purchases
SNAP does not allow the purchase of any item that cannot be eaten. Specifically, the program excludes soap, paper products, household supplies and pet foods. Vitamins, medicines, hot foods and food to be eaten in-store also are excluded. Additionally, cigarettes, tobacco, beer, wine and liquor are not eligible for purchase. These exclusions benefit consumers by freeing up the benefits to be used on foods that are more healthy and good for the body.
New York Incentives
Under the "Health Bucks" program in New York, shoppers receive a $2 coupon for every $5 of food stamps spent at a participating farmers' market. Those coupons can be used at all farmers' markets in New York City. Health bucks also may be distributed by community organizations.
In addition, SNAP recipients can participate in the Eat Smart New York program for free. ESNY provides nutrition education, as well as advice on healthy eating on a budget and shopping for vegetables. If you have any questions about the program, you can call the SNAP benefits phone number for your state.