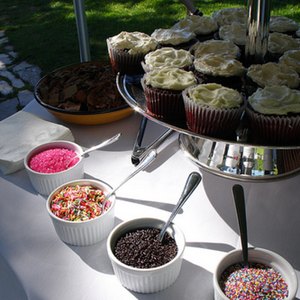 When considering a fundraiser, ideas involving food inevitably come to mind. While there are traditional food fundraisers such as bake sales and cake walks, adding a food booth to your event can help boost the money you raise. The more creative the idea, the more likely it is to draw interest and donations from those at the event.
Cupcake Bar
A cupcake bar is easy to set up and run, and people of all ages will find it alluring. The idea is simple: customers pay a set price, and they receive a cupcake and an unlimited amount of toppings for it. It's best to charge between $2.50 and $3 per cupcake. What you will need to do is offer customers at least two cupcake flavor choices, but the wider the variety you are able to offer the better. You can stick to common flavors such as vanilla, chocolate, and strawberry, or offer less common flavors such as tres leches, spice and red velvet.
Set up a table on the side of the booth with toppings for the cupcakes, such as pastry bags or cans of frosting, whipped cream, maraschino cherries, strawberries, blueberries, gummy bears, pop rocks, chocolate chips, coconut flakes and crushed peppermint.
Make sure you have plenty of napkins and utensils for customers. This type of food booth is very popular, so have enough cupcakes on hand.
Gourmet Apples
Candy and caramel apples are popular all year long, and they tend to make a lot of money at food booths. Along with plain candy-coated and caramel apples, offer ones drizzled with dark or white chocolate and covered with nuts or coconut flakes. Charge at least $3 per apple for plain caramel and candy coatings, and charge up to $6 for the gourmet flavors.
It is best if you prepare the apples beforehand and wrap them in cello bags. Not only will customers get their apples faster, but it will be less messy and you won't have to worry about having heating equipment on hand.
Flavored Popcorn
Popcorn is a food fundraising staple, and one that is inexpensive as well. You can either rent a popcorn machine from an event rental company, pop the popcorn on site using a kettle, or pre-pop the popcorn and have it already bagged. Offer a variety of flavors including plain, cheddar coated, cinnamon, chocolate drizzled and caramel coated.
Depending on how large the bags you offer are, you can charge anywhere from $2 to $5 per bag of popcorn.
References
Writer Bio
Melinda Gaines has been a freelance writer since 2006, with work appearing online for YellowPages and other websites. Her areas of expertise include business, beauty, fashion and sports. Gaines attended the University of Houston where she earned a Bachelor of Science in sport administration.