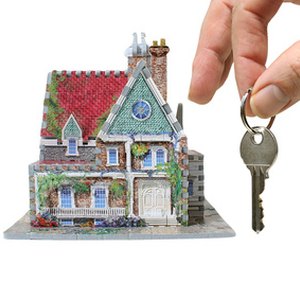 Florida housing lenders employ mortgages and deeds of trust for property sales. However, the state of Florida does not require a deed of trust by law at the time of sale of property.
Mortgage
The standard method of home financing employs a mortgage, which legally creates a lien against a property. The finance company holds the lien until the buyer meets all financial obligations. The mortgage is a document that contains the terms of the finance agreement, including the amount owed and the payment terms.
Deed of Trust
While the state of Florida does not require deeds of trust, the option can still be used when the goal is to provide additional protection for the finance company. A legal document is employed to create a holding entity for the ownership of the property, naming the finance company as beneficiary and a third party as trustee, who will deliver ownership of the property to the finance company in the case of loan default.
Lien Theory
Florida is a "lien theory" state, where buyers keep the title to the property and the finance companies hold a lien against the property until all financial obligations are met.
References
Writer Bio
Darryl James, a syndicated columnist and freelance writer in the Los Angeles area has written for more than 15 years for "New York Newsday," "Pittsburgh Courier," "The Los Angeles Sentinel," "Women's Wear Daily," "Apparel News," "Rap Sheet" and more. James has written books and has just finished his first screenplay.