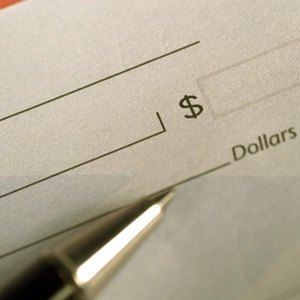 Financial information is important because it impacts so many areas of your life. You need financial information to apply for many forms of credit, and you need financial information to make purchases. If you track your financial information and take other steps to safeguard it, you can protect your buying power.
Buying Power
Your buying power is tied to how much cash you can accumulate at any time. For example, if you want to purchase a new motorcycle, you need thousands of dollars, unless you have the ability to get approved for a consumer loan. Increase your buying power by using financial information to keep a budget and stick to it. The more you can save in your budget, the more money you can put in the bank. One day buying a motorcycle with cash will be possible.
Consumer Credit
Three major credit bureaus -- TransUnion, Equifax and Experian -- collect information about you. They use your Social Security number to maintain a record of consumer credit accounts you open in your lifetime. If you monitor your credit report, you can take actions to correct errors. Dispute invalid debts and get creditors to update accounts that you've paid off. Boost your credit score by making on-time payments to credit cards, personal loans, mortgages and auto loans. With a higher credit score, you can borrow more money, which equals more buying power.
Privacy
Financial information collected about you by your bank is easy to steal. Consider when you log into your bank account or credit union account online. A person can phish for your username and password when you log on. If this information is captured, a person can log into your account and transfer your money to another bank. Get to know your bank or credit union's policy for protecting your financial information, such as using 128-bit SSL encryption of data you enter into web forms.
Identity Theft
Your consumer credit profile is linked to your Social Security number. If someone knows this number, she can find out most of your financial information. Don't give out a Social Security number without understanding how it will be collected and used by creditors, government agencies, medical providers, insurers and other organizations. At home, lock up any documents that contain your number. You don't want your identity to be stolen because you are careless. It is the key to your financial information. You don't want someone to obtain employment or credit accounts using your Social Security number.
References
Writer Bio
Audra Bianca has been writing professionally since 2007, with her work covering a variety of subjects and appearing on various websites. Her favorite audiences to write for are small-business owners and job searchers. She holds a Bachelor of Arts in history and a Master of Public Administration from a Florida public university.