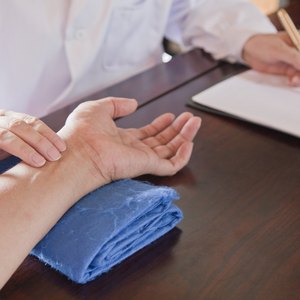 •••
XiXinXing/XiXinXing/Getty Images
When people struggle to afford food, clothing and shelter, they often lack the resources to pay for health insurance. When these people need medical care, they can encounter serious financial hardships. Even after the passage of the Affordable Care Act, also known as "Obamacare," many people still can't afford quality health insurance. Many programs, both government-run and privately sponsored, can help indigent patients cover the costs of their medical expenses, dental procedures and prescription medications.
Charity Care Programs
Many for-profit and non-profit medical care facilities offer "indigent care" or "charity care" programs for indigent patients. These charity care programs function as a health care safety net for those patients who cannot afford private insurance or are ineligible for government-financed programs such as Medicaid/CHIP and Medicare. The level of health care benefits and the income eligibility requirements vary among the different providers, but these programs are designed to offer essential treatments at little to no cost to patients.
Medicaid and CHIP
The government-operated Medicaid program furnishes health insurance coverage to almost 60 million low-income individuals. Medicaid is among the largest payers for health care in the U.S. Starting in 2014, the Affordable Care Act allowed states the ability to extend Medicaid eligibility to people younger than 65 in families with incomes below 133 percent of the Federal Poverty Level. The Children's Health Insurance Program, better known as CHIP, gives federal matching funds to state programs that offer health insurance coverage to almost 8 million children in families who can't afford private coverage but who also have incomes above the qualifying level for Medicaid.
Community Health Clinics
Many indigent patients can find free or affordable health care resources at their local community clinics and health centers. The National Association of Community Health Centers provides health care services to an estimated 23 million patients across America. Health care workers in their 9,000 locations work with uninsured, unemployed or under-employed patients. These community health care centers allow patients to get tested or treated when symptoms first appear at little to no cost. The treatment available at these centers prevents patients from waiting until their health issues become so severe that they must endure a costly emergency room visit or an expensive hospital stay.
Prescription Assistance
Indigent patients who require prescription medications as part of their treatment schedule can also get help in covering their expenses. While most government-run programs offer prescription drug assistance, several pharmaceutical companies also offer patients the opportunity to use their products at little to no cost. The eligibility criteria can vary from program to program, so patients should consult their health care provider or pharmacist to find out how they can apply for these programs and get the medications they need.