Financial Hubs of the US
by Jennifer Mueller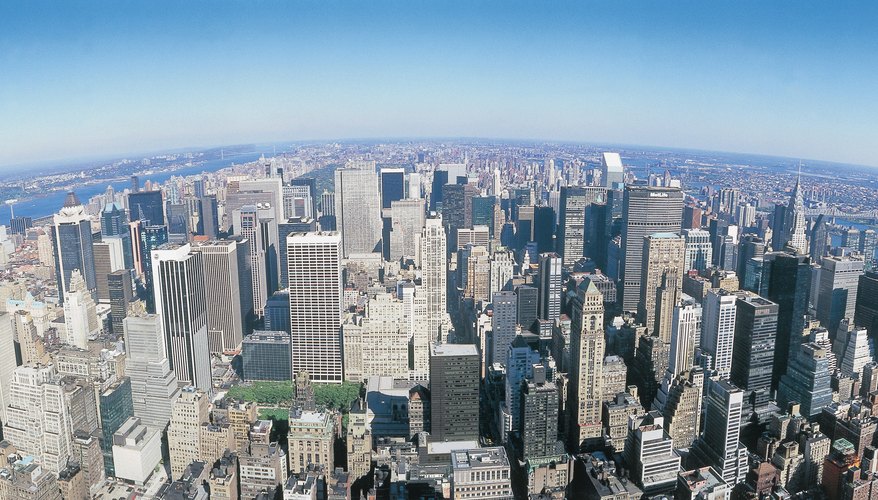 U.S. financial hubs represent connected and well-known urban centers of business. These cities are home to diverse industries that give them a broad business environment. Many of them also specialize in a particular area of finance, offering a depth of services and expertise other locations can't match. These hubs often emerged historically as major ports and trading centers, with major universities and research fueling innovation and further growth.
New York City
New York's influence reaches worldwide, and was ranked as the second most important global financial center behind London, according to the 2013 Global Financial Centres Index, a recognized instrument for analyzing and ranking the world's most powerful financial hubs. At the end of 2008, 40 percent of the world's finances were controlled through New York City. Best known as a hub for investment banking, the city is also home to the New York Stock Exchange and NASDAQ, the two largest stock exchanges in the world. The metropolitan area's $1.3 trillion gross domestic product in 2005 made the city the second largest economy in the world.
Chicago
The third most populous city in the United States is a global hub for commodities and futures exchange. Home to the Chicago Mercantile Exchange, which is the world's oldest futures exchange, the Windy City also hosts the Chicago Board of Trade, the largest trader of derivatives. This world-renowned center of research and higher education is ranked 11th on 2013's Global Financial Centres Index. Twelve Fortune Global 500 companies are headquartered in Chicago, as of 2013, reflecting the city's global reach.
San Francisco
Home to one of four U.S. Treasury Financial Management Services processing centers, San Francisco is the money center of the West Coast. The bay city's proximity to Silicon Valley makes it a dominant hub for information technology development and venture capital. San Francisco's global power and influence makes it the 13th most important financial hub in the world, according to the 2013 Global Financial Centres Index.
Boston
Boston has been a focal point of wealth in the United States throughout history, and in 2013, it came in at No. 8 on the Global Financial Centres Index. Long-considered a transnational financial center, the city rose in prominence to be considered a global leader for the first time. Beantown specializes in wealth and asset management and is home to a large number of mutual funds, venture capital and private equity firms.
Charlotte
Charlotte, North Carolina, doesn't feature the global reach to merit a ranking on the Global Financial Centres Index, but the city and region has for many years been regarded as an up-and-coming financial powerhouse in the United States. Bank of America and Wachovia, which was acquired by Wells Fargo, make the Queen City second only to New York for banking assets and resources. Five of the top 25 banks in the country have their headquarters in Charlotte, a city that takes pride in its diversity, pro-business attitude and southern hospitality.
Photo Credits
Goodshoot/Goodshoot/Getty Images