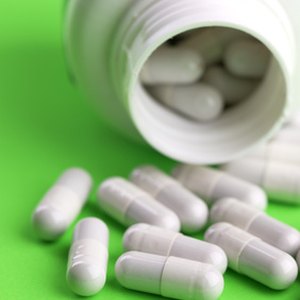 According to a Kaiser Family Foundation report published in April 2008, more than half of Americans take prescription medications and almost 20 percent need at least four medications each day. While health insurance plans can cover a portion of prescription medication costs, people facing financial hardship often have no medical coverage or cannot afford required co-payments or deductibles. Private organizations and government programs can help pay for prescription medications or help patients find more affordable drugs.
Medicare Part D
Beginning at age 65, senior citizens can qualify for the federal Medicare program, which provides coverage for medical services. Participants must enroll in Medicare Part D when their eligibility for Medicare begins, or face penalties. The eligibility period for Medicare begins approximately three months before a person turns 65 and ends three months after his birthday. Medicare Part D can help pay for generic and brand-name medications. The coverage typically requires payments of monthly premiums and co-payments. Low-income citizens with few resources can enroll for the Extra Help program through the Social Security Administration. Extra Help bases benefits on income and resource levels and can pay monthly premiums, deductibles, and co-payments for those in need.
NeedyMeds
NeedyMeds, a nonprofit organization, offers information about reduced-rate drugs on its website. Drug companies offer assistance programs for low-income patients who cannot afford the prescription drugs they need. NeedyMeds provides a listing of more than 500 companies, with information about the drug programs they sponsor and how to enroll. Assistance programs can offer low-cost or free medications for patients who qualify. The enrollment process often requires patients to enlist their doctor's help in verifying health conditions and drug prescriptions. NeedyMeds also offers information about prescription drug help offered through state programs. The site also provides links to product coupons for discounts on over-the-counter drugs.
State Drug Assistance Programs
States often have drug assistance programs that offer free or reduced-rate prescription medications. For example, the California AIDS Drug Assistance Program provides nearly 200 drugs to low-income, underinsured and uninsured people who have HIV or AIDS. Participants can receive the medications they need at more than 3,000 participating pharmacies throughout the state. Washington State's Prescription Drug Assistance Foundation helps patients find programs that provide low-cost or free prescription medications. New York State's Elderly Pharmaceutical Insurance Coverage helps pay the cost of prescription copayments and deductibles required by Medicare participants with Part D coverage.
Partnership for Prescription Assistance
The Partnership for Prescription Assistance (PPA), sponsored by pharmaceutical research companies, helps patients find drug assistance programs for the medications they need. The free service provides access to nearly 500 private and public programs. Patients can access information using PPA's website, where they can print program applications. The PPA call center provides English- and Spanish-speaking staff members to assist patients.
References
Writer Bio
Michael Evans graduated from The University of Memphis, where he studied photography and film production. His writings have appeared in numerous print and online publications, including International Living, USA Today, The Guardian, Fox Business, Yahoo Finance and Bankrate.