Financial Help for Dental Care and Cosmetic Dentistry
by Erin Connelly ; Updated July 27, 2017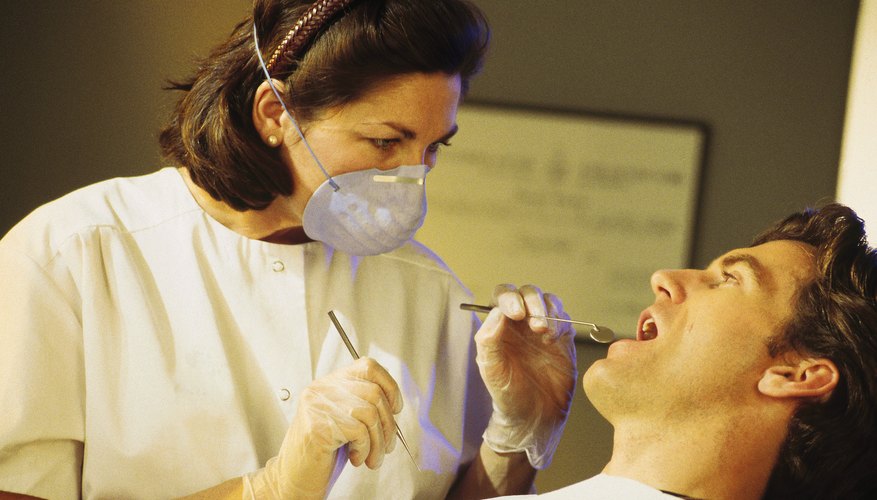 Dental care consists of regular check-ups by a dentist and cleaning by a hygienist, while cosmetic dentistry involves corrections to the appearance of teeth, such as straightening, whitening and "smile makeovers," a complete restructuring of the teeth, gums and musculature of the mouth. Routine dental care is a critical component of health care. Untreated oral problems can lead to tooth loss, pain, infection and other serious health problems, while lack of access to cosmetic care can affect self-esteem and confidence. A study in 2008 by the Kaiser Commission on Medicaid and the Uninsured reported that 59 percent of low-income adults have no dental coverage and that there is inadequate access to affordable care even among adults with dental coverage.
Medicaid and Medicare Coverage
Medicaid provides health care benefits for low income pregnant women, children under the age of 19, all individuals over 65, individuals with vision impairments and individuals with disabilities or in need of nursing home care. For individuals under 21 years of age, Medicaid is required to provide minimum benefits of pain relief, treatment of infections, restoration of teeth and maintenance of dental health. Dental benefits are not required for the adult Medicaid population. The extent of dental benefits varies across the states from no benefits to comprehensive benefits. The American Dental Association provides a searchable database for users to determine what dental benefits are offered by their state Medicaid programs. Medicare offers benefits for all individuals 65 and over, people of any age who have kidney failure or long-term kidney disease and individuals who are permanently disabled and cannot work. Currently, Medicare does not pay for dental care, except in cases associated with underlying medical conditions or in conjunction with other surgical treatments.
Dental Lifeline Network
The Dental Lifeline Network, a charitable affiliate of the American Dental Association, provides donated dental care, from thousands of volunteer dentists, to disabled, elderly and medically vulnerable patients across the United States. The organization also provides charitable house calls via a portable dental unit to residents of nursing homes, those living in residential centers or others who cannot travel easily due to age, disability or medical problems.
Pregnant Mothers and Children
As part of the Children's Health Insurance Plan (CHIP), children are eligible for comprehensive Medicaid dental benefits in all 50 states, while pregnant women, over age 21, in California are eligible for limited Medicaid dental coverage. States may implement the Immigrant Children's Health Improvement Act, which allows the use of federal funding to provide health coverage, including dental care, to legally-residing immigrant pregnant women and children. Seal America is a school-based dental sealant program, which is organized and funded by volunteer health professionals and members of the community.
Uninsured Adults
There are free dental clinics or income-based clinics available in most U.S. cities for any individual with low access to regular dental care. The U.S. Department of Health and Human services provides a searchable database of free clinics across all states.
Other Dental Plans
Cosmetic Dentistry is not considered an essential, preventive or emergency treatment by most programs that provide financial assistance and therefore is not typically covered, but reduced payment rates, discounts or income-based monthly payment plans are provided by most dentist offices for both routine dental care and cosmetic procedures. The percent discount and types of payment plans vary significantly by location, dentist office and individual income and treatment plan. If no other federal, charitable or free clinic program suits your individual situation, then discussing an alternative or reduced payment plan with your dentist may be the most appropriate option.
Photo Credits
Comstock/Comstock/Getty Images