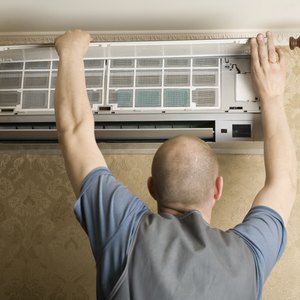 •••
stask/iStock/Getty Images
Heating, ventilating and air conditioning, or HVAC, systems are useful in regulating temperatures and air quality in buildings. However, owning or replacing an HVAC system requires that you have enough cash to cover acquiring and installing the system. If you lack sufficient savings, you can seek other sources of financing to purchase your preferred HVAC system.
Confirm the cost of the HVAC system you want to install, and explore the possibilities of financing the whole amount, or part of it, with your savings. Check whether your mortgage equity -- the difference between your home's market value and the mortgage balance -- is sufficient to secure a home equity loan. This is viable collateral for a home improvement loan meant to finance an HVAC system.
Confirm whether your bank has an HVAC financing product and survey other financial institutions, such as credit unions and mortgage companies, that offer home improvement loans. Spread your considerations to Department of Housing and Urban Development's low-cost financing options, such as a Section 203(k) mortgage. The Section 203(k) mortgage is essentially a financing and refinancing product that offers as much as $35,000 for spending on home repairs and improvements. Borrowing such subsidized loans that target HVAC system installations, among other home improvements, saves you a lot of money.
Visit your preferred financial institution and apply for a home improvement loan or HVAC financing. In fact, Federal Housing Administration's PowerSaver Pilot 203(k) program, which offers homeowners up to $25,000 in low-cost financing, is more appropriate if you plan to install an energy-efficient HVAC system. According to a PowerSaver pilot program description in the HUD website at the time of publication, you must ensure your energy-efficient HVAC system costs more than $3,500 to qualify for the funds.
Scrutinize the payment plans that HVAC companies have in place to identify the most affordable offers. HVAC companies understand that this type of equipment is costly, and many are willing to offer buyers innovative financing offers. Some HVAC companies offer to link their customers to bank financing, while others, such as Service Experts and LMC Service Solutions, provide both bank and in-house sources of finance. Service Experts and The Home Depot do not charge annual fees and prepayment penalties, and they allow customers to make low monthly installments.
You must meet credit rating thresholds to obtain financing from financial institutions.
References
Writer Bio
Paul Cole-Ingait is a professional accountant and financial advisor. He has been working as a senior accountant for leading multinational firms in Europe and Asia since 2007. Cole-Ingait holds a Bachelor of Science Degree in accounting and finance and Master of Business Administration degree from the University of Birmingham.