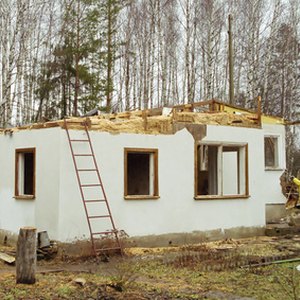 Whether you've been inspired by a show on HGTV, you've bought an old house in need of work or your home needs repairs due to years of use, a home renovation project is often a huge undertaking. Tearing the walls down to remove fungus in a bathroom, updating your kitchen so it's more energy-efficient or adding a central heat and air system to an old home can cost tens of thousands of dollars. One way to relieve the financial stress a renovation may cause, you can secure financing for your project.
How to Finance a Home Renovation
Plan your remodeling project. Before you smash down any walls, plan every single element of your remodeling project and give each element an assessment in importance based on increasing home value or increasing quality of life. Sid Davis, writer for This Old House Magazine, says "Whether you hire a contractor or take on the work yourself, begin with an accurate estimate of what the project will cost. Lenders will insist on a specific figure before they work with you." When all the costs are determined, you can leave off the least important renovations for later dates if the project could extend beyond your budget.
Get estimates. Contact construction companies and designers and explain the parameters of your project. Give them the dimensions of the spaces they will be working with and find out estimated project costs. Compare rates from several different companies to arrive at an approximate cost for your project.
Use the cash that you have in your savings account to get the project off the ground. There isn't any interest that you'll have to pay for borrowing this money from yourself, but it could deplete your reserves. Try to avoid taking too much of your reserves. Leave enough savings to cover a few months' worth of bills and seek financing from lenders for the rest that you will need for your project.
Investigate Zero-Interest Credit Card offers as an option to pay for your remodeling project. Credit cards offer a quicker financing option than loans. You apply either online or by phone, and you learn whether you are approved within minutes. Credit cards often also offer reward point programs that you can take advantage of. Beware of the danger of high interest and fees that could come back to haunt you long after your renovation project has been completed.
Apply for a home equity loan. Use the equity built up in the home to finance your remodeling project at generally a lower interest rate than most other financing options. Depleting the equity in the home however, reduces your return on your investment if you have to sell the home before you've paid down the loan and the original mortgage.
Call your lender to inquire about home equity line of credit options. Consumers Union of US Inc., who produces independent Consumer Reports says "This type of financing is best if you plan to do several projects over a number of years." Home Equity Lines of Credit are similar to credit cards. You can keep borrowing money and paying it back as long as the line of credit is activate. Your credit limit on a HELOC will be based on the equity you have built in your home.
Consider doing it yourself and getting friends and family to invest their sweat for free. If you have the skills to perform the job, you can save thousands of dollars on labor. Keep in mind that a shoddy job can actually double the cost of your remodeling project; especially if you have to hire someone to fix what you've broken.
Apply for a personal loan. Lending Tree advises that "A personal loan or line of credit may be all you need for a smaller project. The fees to set these up can be lower than those for refinancing your mortgage or tapping your home's equity." With a personal loan, you don't have to worry about having a lien on your house if something were to go wrong and you got behind on the payments.
References
Writer Bio
Sam Williams has been a marketing specialist and ad writer since 1995. He has been published in magazines such as "Reaching Out" and "Spa Search." He served in various sales and marketing positions with major corporations such as American Express, Home Depot and Wells Fargo. Williams studied English at Morehouse College.