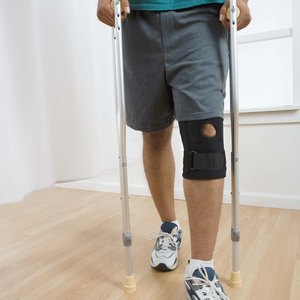 •••
Jupiterimages/Creatas/Getty Images
If a doctor or other licensed medical practitioner certifies that you can't work for a period of time because of an illness or injury, you may qualify to receive temporary disability benefits. Some temporary disability insurance programs are funded by individual states. Others are financed through employee payroll deductions. You may also be able to file a claim for Social Security disability if your disability is expected to last at least one year.
Are you Eligible to Apply for Temporary Disability?
Contact your local department of social services or your state's department of labor to determine if you qualify for state disability insurance benefits. Eligibility, income requirements and policies regarding the amount of benefits vary among states. However, you must have a medical condition or disability that prevents you from working. You must also be under medical care. Talk to the human resources staff where you work for benefit details if your employer offers a short-term disability plan as an employee benefit.
Prove you  Short Term Disability Qualifications
Collect any documents that will support your claim for disability insurance benefits. You may be asked to provide your medical records, including laboratory and other diagnostic test results, a statement from your attending physician, a full list of medications and paperwork showing the dates and reasons for any hospitalizations. Provide a signed and dated authorization to obtain and release information from your health care practitioners.
Apply for Short Term Disability
File your claim for state disability insurance benefits online. Many states allow you to submit your application electronically, although you may still have the option of printing a paper application to complete and mail. In most cases, you can also request that an application be mailed to you. Provide your name, Social Security number, address, phone number and the date when you were first unable to work. Your inability to work must be due to an illness or injury for you to qualify to receive benefits. If your illness or injury is job related, you must also provide employer information and workers' compensation information.
Answer every question on the application form. Leaving a question blank will delay processing of your claim – your application form will be returned for you to complete. If a question does not apply to you, write "not applicable" in the blank space. Sign and date the form.
Have You Applied for Other Benefits Programs?
Attach photocopies of any application forms you have submitted to other benefits programs. These may include an application for Social Security disability benefits, workers' compensation or unemployment insurance. You may not be able to collect temporary disability benefits at the same time, or temporary disability insurance may reduce the amount of benefits you receive from another program.
References
Writer Bio
Amber Keefer has more than 25 years of experience working in the fields of human services and health care administration. Writing professionally since 1997, she has written articles covering business and finance, health, fitness, parenting and senior living issues for both print and online publications. Keefer holds a B.A. from Bloomsburg University of Pennsylvania and an M.B.A. in health care management from Baker College.