How to File for Medical Bankruptcy
by Lauren Treadwell ; Updated July 27, 2017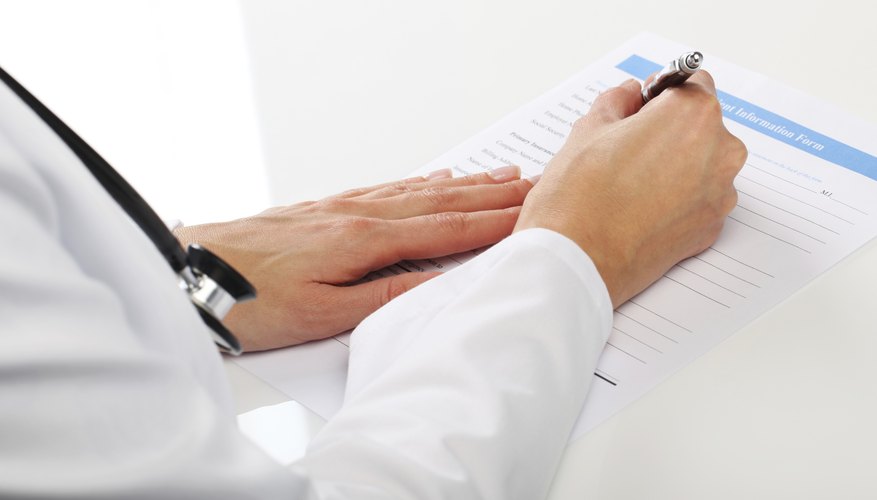 A 2013 study conducted by NerdWallet Health estimates that medical debt accounts for 57 percent of all bankruptcy filings in the U.S. Medical debt includes unpaid medical bills, payments put on credit cards and loans taken out to cover expenses. While medical debt can be staggering, it is still considered "nonpriority" for bankruptcy purposes. This means you may be able to eliminate it completely by the end of the bankruptcy process.
Pre-bankruptcy Counseling
Federal bankruptcy laws require 90 minutes of credit counseling before you can file for bankruptcy. You must receive the certificate of completion within 180 days of filing. The court maintains a listing of approved counseling providers on its website, with courses available online, over the phone and in a classroom setting. The cost of the counseling services vary by provider, but they generally cost $50 or less. If your income falls below the poverty line, you may qualify for a waiver of this fee.
Chapter 7 or Chapter 13
People who file medical bankruptcy have two choices: Chapter 7 or Chapter 13. Chapter 7 requires you to surrender any assets that exceed your state's exemption limits as payment to creditors in exchange for a completely clean, debt-free slate. Chapter 13 bankruptcy allows you to keep your assets but requires a three- to five-year plan for paying your debts off. Generally, your after-debt income must be above the state median to file Chapter 13, but you must complete the means test section of the bankruptcy petition to determine which chapter you can file under.
Gathering Documentation
Gather all the paperwork you need to file the petition. Most important of these are copies of bills from the medical care you received. You must also provide documentation of your other debts, even if they are in good standing or not related to your medical expenses. The court requires information about your income and expenses, so you'll need to collect six months' worth of pay stubs and other proof of income, two years' tax returns and bills for utilities, housing, food and other necessities. Finally, you'll need to know the value of any assets you possess, such as real estate, vehicles, bank accounts, investments and other valuables.
Completing the Petition
Filers can download the bankruptcy petition from the U.S. Bankruptcy Court website. The multiform document consists of "schedules" in which you enter information about your finances. You'll need to include specifics like company, physician and facility names, as well as exact dollar amounts. The court examines the data you record here meticulously, so provide full and truthful information to avoid having your case dismissed -- a result that would leave your medical debts intact.
You must include all of your nonmedical debts on the petition, as federal law requires the inclusion of all debt in a bankruptcy case. If you file Chapter 7 bankruptcy and wish to continue paying on any nonmedical debt once the bankruptcy is complete, you can fill out the reaffirmation section of Schedule B8, leaving those accounts in good standing. People who file Chapter 13 bankruptcy must create a plan to pay off their debts within three to five years. If all of your debt cannot be eliminated at the end of five years, the court discharges the remainder, leaving you debt free.
Filing the Petition
You must file the bankruptcy petition, along with your credit counseling certificate, in person at the bankruptcy court in your district. You must also submit the filing fee by cash or money order. As of the time of publication, the fee is $299 for a Chapter 7 bankruptcy and $279 for Chapter 13. Filers who can't pay the fee in full at the time of filing can ask for an installment plan. Chapter 7 petitioners whose income is under 150 percent of the federal poverty line can also request a waiver of the fee.
Photo Credits
Gubcio/iStock/Getty Images