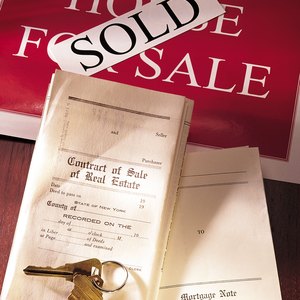 •••
Comstock/Comstock/Getty Images
Individuals seeking to buy a home often weigh financing alternatives during the process of shopping in the housing market. Sorting through loan options for first-time homebuyers can include looking at government-backed mortgages. For consumers that meet certain income requirements, this option can save money upfront as well as over the life of the loan. If you are interested in an FHA loan, you will want to work with a Direct Endorsement lender.
The FHA Direct Endorsement Program connects applicants with lenders who they've already approved to offer their government-backed loan.
FHA and HUD
The FHA, or Federal Housing Administration, is a federal agency under the umbrella of the U.S. Department of Housing and Urban Development (HUD), which insures mortgages to qualifying borrowers. According to HUD, the FHA insures more mortgages than any agency in the world. Since its establishment in 1934 during President Franklin Roosevelt's administration, more than 34 million loans have been insured.
Direct Endorsement Lenders
Certain financial institutions that offer FHA-insured loans are termed "Direct Endorsement Lenders." What this signifies is that the lender has previously met HUD regulations and obtained prior approval from the FHA. To become designated as a Direct Endorsement Lender, the financial institution submits a certain number of its loan files for FHA review, which HUD calls "test case" loans.
Once these loans meet the agency's approval, the lender qualifies for Direct Endorsement selection, after which the lender can approve loans for FHA backing prior to submitting the paperwork for review. Although the FHA grants Direct Endorsement status to the lender and not the actual underwriters, the financial institution must employ a registered Direct Endorsement underwriter to assess and review each loan application.
Lender and Borrower Applicant Characteristics
Prospective homeowners applying for an FHA loan are often first-time buyers or individuals in lower to moderate income brackets. Lenders with an FHA Direct Endorsement status may also be more willing to work with consumers that have past credit issues or less extensive credit histories. However, just as with any standard loan, the borrower must show the ability to repay in a timely manner to be approved for the mortgage.
Costs Are Lower
Because borrowers pay a premium for the mortgage insurance and the FHA then promises the lender to repay the loan should the borrower default, the Direct Endorsement lender often requires less down payment than on other types of mortgages. The low down payment when combined with additional fees and charges make the total closing costs comparably less in the FHA loan process than with other types of mortgages.
References
Writer Bio
Vicki A Benge began writing professionally in 1984 as a newspaper reporter. A small-business owner since 1999, Benge has worked as a licensed insurance agent and has more than 20 years experience in income tax preparation for businesses and individuals. Her business and finance articles can be found on the websites of "The Arizona Republic," "Houston Chronicle," The Motley Fool, "San Francisco Chronicle," and Zacks, among others.