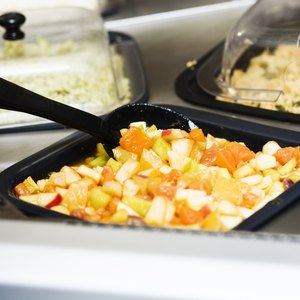 •••
Don Bayley/iStock/Getty Images
Hunger and homelessness often go hand in hand. There are several ways to satisfy your desire to feed those in need, depending upon your comfort level. Volunteering your time, starting a food drive, or offering food on your own are several ways to help.
Volunteer Opportunities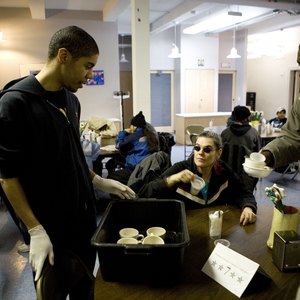 •••
Don Bayley/iStock/Getty Images
Almost any organization that feeds the homeless, whether it's a once-a-week meal program at a church or daily meals at a shelter, relies heavily on volunteer assistance to keep the programs running smoothly. Offer to help serve cooked food or to prepare the food for meals at a local soup kitchen, meal site or shelter, letting the volunteer manager know how often you may be able to help. Some groups even have food trucks that bring the food to the homeless, visiting select locations on certain days. If unsure where to find opportunities near you, call a local social services organization or city hall, or visit a site such as Volunteer Match to find meal programs that need help in your area.
Organize a Food Drive
•••
Don Bayley/iStock/Getty Images
Organize a food drive to help a specific shelter or organization by letting the management know of your desire to collect food in advance. Once you've worked out mutual details, ask local businesses such as cafes and grocery stores if you may place a donation box within the business. Print a sign detailing what the food is for and mention that you are collecting non-perishable food only -- items that store well in a pantry or cupboard. Food items also must be still within the "use by" date. Visit the box locations frequently and replace full boxes with new empty ones as the boxes fill. To help the recipient organization even more, help them sort the items by category, such as soups, canned beans or dried potato dishes.
Organize Ongoing Donations
•••
Don Bayley/iStock/Getty Images
Stores and bakeries often have goods left over at the end of the day that are not quite fresh enough to sell at full price the next day. Ask local bakery departments, bakers and produce-department managers if they give such goods to meal programs or shelters that serve the homeless. If not, they may be willing to, provided you or someone else can pick up the goods at the end of each day, or as needed. Arrange to pick up unsold loaves of bread or slightly bruised fruit if you are able to get it to a soup kitchen or meal-serving organization while the items are still usable. Doing so may also help establish relationships between businesses and charities in the area for even greater food donations from time to time.
Direct Assistance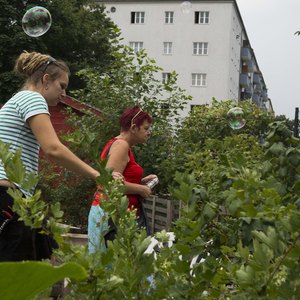 •••
Don Bayley/iStock/Getty Images
If you've seen the same individuals or groups of homeless in certain areas near you on a regular basis, you may be able to help them directly. Pack light lunches for a group of them on weekends or as you can, or start a local effort by joining an organization such as Hashtag Lunchbag that offers assistance with such initiatives. If you grow food or have friends that do, collect extra produce such as grapes, tomatoes or peaches -- food that can be eaten raw -- and hand them out to individuals, or place a box of such goods where the homeless congregate. If you have too much produce to hand out, offer it to a soup kitchen that prepares food every day.
References
Resources
Writer Bio
Kathy Adams is an award-winning journalist and freelance writer who traveled the world handling numerous duties for music artists. She writes travel and budgeting tips and destination guides for USA Today, Travelocity and ForRent, among others. She enjoys exploring foreign locales and hiking off the beaten path stateside, snapping pics of wildlife and nature instead of selfies.