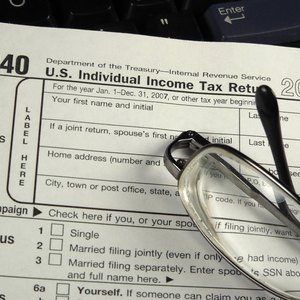 "People overpay their taxes by an average of $400 each year due to missed tax breaks and savings incentives," says Denise Sposato of H&R Block, quoted at Forbes.com. Filing federal income tax is an unpleasant annual chore for most people, leading them to rush through and often overlook valuable deductions.
Dependent Care
Dependent care can be deducted on your taxes, including the costs of some supplies and special transportation. Most people associate dependent care with caring for a child, but it could also be a spouse, parent, aunt or anyone who can legally be claimed as a dependent on your taxes. Supplies include medical equipment, special needs furniture and home care among others. Include Form 2441 - Child and Dependent Care Expenses with your completed income tax return.
Home Office
If you use a portion of your home as your principle place of business you are allowed to deduct the costs of maintaining that portion of the home on your income taxes. In addition to the obvious, like office supplies, you can also deduct up to 25 percent of basic household utilities including electricity and water.Your cable bill could be 100 percent deductible if your business depends on cable Internet access. Your cellphone could also be a deduction, including charges for repairs and upgrades, if it is used for business purposes.
Travel
If you maintain a home office, you may be aware that you can deduct mileage for business purposes. However, you can also claim other expenses like business-related seminars and conventions. This would include admission to the seminar or convention, room rental, meals and transportation. This applies even if you take the family along, so long as you deduct only the portion of expenses that would be yours if you were traveling alone.
Energy Efficiency Credits
The federal government offers tax credits for adding energy efficient appliances or alternative energy sources. According to the Energy Star website, you can claim from 10 to 30 percent of the costs, including costs for biofuel stoves, solar and wind power installations and non-solar water heaters, among other things. You will need to fill out Form 5695 and enter the amount on line 52 of your Form 1040A.
Other Credits and Deductions
You may also qualify for other tax credits, such as the saver's credit or credits for recent adoption. There is even a tax credit for purchasing a vehicle that uses alternative or hybrid power. First time home buyers are eligible for credits and education expenses may be deductible as well.
References
Writer Bio
Roger Golden began his career as a writer in 2008, when he began writing weekly insurance and personal finance articles. Golden's work has appeared on eHow, USAToday.com, TheSpoof.com and his privately managed blogs, .modern Dislogic and Outdoors—Dixie Style.