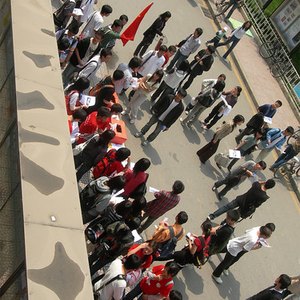 •••
Image by Flickr.com, courtesy of ?? Nicolas Chang
Are you a woman or a member of an ethnic minority group in need of free money to help pay for personal expenses, get out of debt, start a business or pay for college? If so, then there are billions of dollars available for people like you in the form of grants.
Definition
•••
Image by Flickr.com, courtesy of ?? Nicolas Chang
There are many public (government) grants--funded by taxpayers--and private grants--funded by private foundations and special interest groups--that are aimed at helping women and minorities. Applying for a grant depends more on financial needs than goals. It is different from applying for a loan because it doesn't depend on the ability to pay back money at a later time like it does from borrowing. Grant money is free money --no interest, no hidden fees, no down payment and no repayment.
College Grants
•••
Image by Flickr.com, courtesy of ?? Nicolas Chang
About 25 percent of our nation's colleges and universities have special awards to encourage minorities to attend and to increase diversity in their student bodies, according to the website College Compass. Most minority students who are academically talented have been sought after by colleges and universities regardless of their financial needs. If you are a college student guaranteed to receive grants for tuition, you get this money for the entire term, but must apply each year for another term.
Resources
•••
Image by Flickr.com, courtesy of ?? Nicolas Chang
There are many websites that have directories showing a number of government and private foundation grants that you could qualify for. There's no limit on the number of grants you can apply for and get approved for at the same time; so you can get one grant to pay for your rent or mortgage and, at the same time, pay off your student loan. College Compass and Success Grants are two examples of websites that list grants, and their URLs are listed at the end of this article.
Process
•••
Image by Flickr.com, courtesy of ?? Nicolas Chang
Many people fail to receive grants, even ones they may be qualified for, because they do not understand the grant application process. The Foundation Center website has a reference guide of both print and electronic resources for minority groups seeking grants. If you're unfamiliar with the process of grant seeking, the website has an area that may help you. Information on proposal writing for individual grant seekers can be found on its FAQ page.
Conclusion
Most private foundations give grants only to non-profit organizations. Therefore, individual grant seekers have different requirements than organizations with tax-exemption. Some private foundations offer grants for individual projects. You must use your own judgment to decide which kind and what particular grant you seek.
References
Writer Bio
Daniel Cunningham graduated from Hudson Valley Community College. He was a staff reporter/writer for its newspaper, and had eight articles and three poems published. He also graduated from Sage College of Albany and interned as a journalist for the Fourth Branch of America, where he had four articles published.