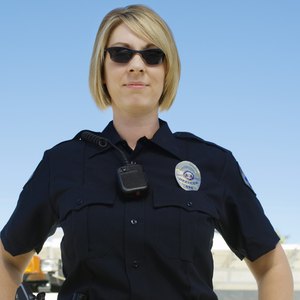 •••
moodboard/moodboard/Getty Images
Public safety and law enforcement officers are employed at all levels of government to keep the peace among residents in towns and cities across America. To reward the performance of this vital task, the U.S. government has enacted several federal benefits packages which police officers may claim upon their retirement. Federal benefits are extended through the federal retirement system, or to officers who have become disabled on the job.
Federal Retirement Benefits
Law enforcement officers employed by the federal government can opt in to the Federal Employees Retirement System, or FERS, during the course of their careers. Police officers can receive a full retirement benefits package through FERS if retiring at age 50 with 20 years of experience, or at any age with 25 years of experience. FERS retirement benefits for law enforcement officers include a retirement supplement available until age 62, when it is replaced by the traditional Social Security income benefit.
Disability
Police officers who have retired due to a disability suffered while on the force may benefit from federal death and disability benefits enacted through the Public Safety Officers Benefit Act of 1976. Public safety officers eligible to receive this federal benefit include law enforcement officers, corrections officers, parole officers and probation officers, as well as firefighters and emergency response professionals. To apply, retired police officers should contact the U.S. Bureau of Justice Assistance's Public Safety Officers' Benefits, or PSOB, program. As of October 2008, the amount of the federal benefit for death or disability of a police officer was $315,764.
Educational Assistance
Family members of a police officer who has retired due to disability can also benefit from the PSOB's Public Safety Officers' Educational Assistance program. This program offers a maximum award of $915 per semester of college to be used towards costs associated with tuition, housing and other related educational expenses. The spouse of a disabled police officer can use this benefit at any age, while the retired officer's children must utilize the benefit by their 27th birthday. Recipients must maintain at least a 2.0 grade point average to retain the federal benefit.
Survivors Benefit
The third and final benefit created by the Public Safety Officers Benefit Act is the Hometown Heroes Survivors Benefit. This federal benefit is offered to family members of a police officer who died either in the line of duty or from heart attack or stroke within 24 hours of being on duty. PSOB claims for death benefits must be made to the U.S. Bureau of Justice Assistance within three years of the date of the police officer's death.