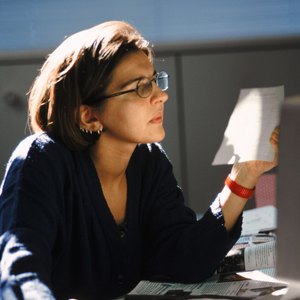 •••
John Foxx/Stockbyte/Getty Images
A "penny stock" is a low-priced stock of a company that is not listed on any of the major public exchanges. Investments in unlisted companies are risky; many penny-stock firms are start-ups or development-stage companies that don't generate revenues or net income. Nevertheless, for the services of an online broker such as E-Trade, you will pay a commission when trading a penny stock, whether or not it represents a good investment.
Basic Account Information
E-Trade allows you to buy and sell stocks, bonds, mutual funds, exchange-traded funds and foreign investments via the company's online trading network. After setting up your account, you access the site with a login and password and fund the account with checks, money orders, credit cards, debit cards or direct transfers from your bank account. As an account holder you must be 18 years of age or older; you must also provide your Social Security number.
Commission Schedule
You pay a commission to E-Trade whenever you buy or sell an investment for your account. This includes stocks that are not listed on any exchange, such as the NASDAQ; unlisted stocks are also known as pink sheet or bulletin board stocks. As of May 2013, E-Trade offered a two-tier commission schedule: $9.99 for trades if you make 149 or fewer trades every quarter, and $7.99 if you make 150 or more trades in a quarter. There are no account maintenance fees or per-share commissions.
Market and Limit Orders
In general stock traders use "market" or "limit" orders. A market order is an order to buy or sell at the best price available; in a limit order, the trader specifies the desired price for the trade. Because the price of sub-dollar stocks can vary widely and change quickly, E-Trade does not allow market orders for stocks priced under $1. You must set a specific "limit" price that you accept when buying or selling these shares. This avoids any disputes from traders over unpredictable and often unfavorable market prices.
Sub-Penny Stocks
E-Trade does not set a minimum price for the stocks it handles. You can trade penny stocks or "sub-penny" stocks, for which the price is less than a penny. The brokerage claims to handle stocks that are priced up to four decimal places under $1. That means a stock with a market price as low as .0001 per share is available for trading. If trading in a stock has been suspended or restricted (a common occurrence among penny stocks), however, or if the shares have been canceled, then E-Trade cannot handle your buy or sell order.
References
Writer Bio
Founder/president of the innovative reference publisher The Archive LLC, Tom Streissguth has been a self-employed business owner, independent bookseller and freelance author in the school/library market. Holding a bachelor's degree from Yale, Streissguth has published more than 100 works of history, biography, current affairs and geography for young readers.