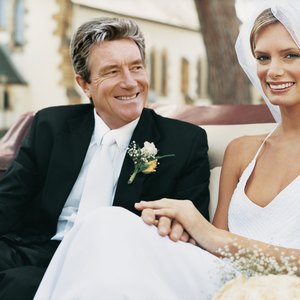 •••
Digital Vision./Photodisc/Getty Images
Traditionally, the bride's father pays for most of the wedding expenses, but wedding etiquette is changing to fit the economic climate. As a result, many couples are forgoing tradition in favor of flexible approaches to covering wedding expenses.
Traditional Etiquette
Traditionally, the bride and her family pay the majority of the expenses, including the groom's ring, photography, music, flowers, bridal cars and the reception. Bridesmaids buy their own dresses and travel to the wedding, but traditionally the bride pays for their accommodations. The groom pays for the bride's ring, the wedding license, his attire and transportation. He also pays accommodation expenses for his best man and ushers, although they pay for their travel to the wedding and for their attire. Traditionally the groom pays for the honeymoon.
Sharing and Caring
A full, traditional wedding is an expensive affair and these expenses can be shared by the couple and by their families. This is perfectly acceptable etiquette. Preparing and agreeing to a budget early on in the planning prevents overspending and allows everyone concerned to share the costs according to their means.
References
Writer Bio
Based in London, Eleanor McKenzie has been writing lifestyle-related books and articles since 1998. Her articles have appeared in the "Palm Beach Times" and she is the author of numerous books published by Hamlyn U.K., including "Healing Reiki" and "Pilates System." She holds a Master of Arts in informational studies from London University.