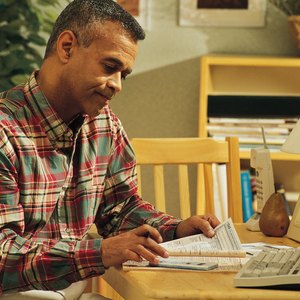 •••
Comstock/Comstock/Getty Images
The Internal Revenue Service relies on documentation to do its work. You're always being told to submit things to the IRS or to save proof of expenses noted on your tax return in case you're ever audited. With warnings like these, it's natural to worry about filing your taxes electronically. When you e-file your return, you virtually eliminate the need to mail any additional documents to the IRS, including copies of your W-2.
Manual W-2 Entries
When you e-file taxes, you input information from your W-2 into the software that prepares your return. When your return is submitted, your entries create an electronic version of your W-2 and serve as a substitute for the paper document. Many software programs are designed to prevent electronic submissions of your return with incomplete W-2 information. This eliminates the need to mail your W-2s in addition to submitting your e-filed return.
Third-Party Information
Your employer sends both you and the IRS a copy of your W-2. The IRS matches information you supply with your return against information submitted by your employer. Many employers are now required to submit this information to the IRS electronically. When you e-file your return and transmit your W-2 information electronically, the IRS has a more efficient way to match information about your wages. This reduces the time you'll need to wait to be notified of any errors or potential discrepancies concerning your W-2 income.
State Income Tax
If you file your state income tax electronically, in most cases you won't be required to mail in your paper W-2 form. States process electronic returns the same way the IRS does. If you manually enter all the state information from your W-2 into the software that processes your state return, an electronic W-2 is created and submitted with your return.
Record Keeping
Although the IRS receives an electronic version of your W-2 when you e-file your return, you should still hold onto your actual W-2s for at least four years after you file. In the event of any discrepancies between what you provide on your return and what your employer submits on your behalf, you'll be able to prove your entries by supplying a copy of your original W-2. Your W-2s also come in handy for other reasons, such as to prove income for loan and credit applications. Keep your W-2s with your hard copy of the tax return you filed and any other documents you used to prepare your return.
References
Writer Bio
With a background in taxation and financial consulting, Alia Nikolakopulos has over a decade of experience resolving tax and finance issues. She is an IRS Enrolled Agent and has been a writer for these topics since 2010. Nikolakopulos is pursuing Bachelor of Science in accounting at the Metropolitan State University of Denver.