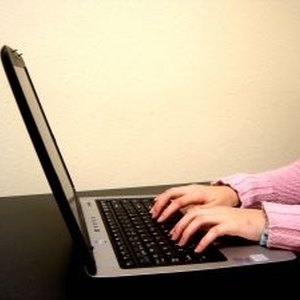 •••
Mario Alberto Magallanes Trejo at www.sxc.hu
Preparing and filing income tax returns used to be a lengthy process, but new e-file services make filing quick and easy. It is no wonder that Americans are using e-file in large numbers -- according to the IRS, nearly 90 million Americans e-filed their taxes in 2008. Online e-file tax programs will guide you through a series of questions to determine your income, taxes paid, deductions, credits and other factors that will affect your return. You can usually start e-filing your taxes at the end of January and must complete your return by April 15 unless you file an extension.
Choose an online tax return service that is authorized by the IRS. The IRS partners with nearly 30 online tax programs, and a complete list is included below under "Resources." Be wary of any online tax program that is not included on the IRS list.
Gather all of the financial information you will need to file your return, including the W-2 form given to you by your employer, any 1099 forms listing dividends or income not taxed during the year and any other forms or receipts you have. You will also need to know your social security number, your adjusted gross income for the previous year and your bank routing and account number if you want to pay taxes or receive your refund electronically.
Go to the website of the online tax program you chose in Step 1. Start a new account by clicking the appropriate links, and enter your personal information and a username and password. Once your account is created, the program will guide you through a series of questions.
Be prepared to answer questions about your marital status, how many dependents you have, your income, your employer and what deductions or credits you may be claiming. Most of the information required will be on your W-2 form. After you have completed the federal questions, the program will ask you if you want to e-file a state tax return as well. If so, click "yes" and answer the next series of questions. If not, click "no" and your federal return will be displayed, indicating either the amount of taxes owed or the refund you will be receiving.
Enter your bank routing and account numbers when prompted by the online program. If you owe taxes, the IRS will electronically deduct the amount owed from your checking account. If you are owed a tax refund, your refund will be deposited approximately 10 days after your return is accepted by the IRS.
Enter your PIN to electronically "sign" your income tax return when prompted. If this is your first time e-filing your taxes, the tax program will ask you to create your own PIN. If you have used e-file before, you will need to use the same PIN number you used last year.
Submit your return by clicking the appropriate button after you have reviewed the return for accuracy. The tax program will e-file your federal income tax return with the IRS. If you completed a state income tax return, the tax service will e-file your state return with the appropriate tax agency. You will receive a confirmation email stating that your tax return has been e-filed, and you will receive another email when the IRS approves your return.
Pay for the tax service using a credit card or checking account number. After your return is e-filed, you will be prompted for payment. Most online tax services charge less than $10, but some programs will e-file your return for free if your adjusted gross income is less than $56,000 or if you are an active-duty member of the military.
You can still e-file your income tax returns even If you pay a tax preparer to complete your taxes. Simply use the IRS locator to find a participating tax preparer and tell your preparer that you want to e-file your taxes. If you have any questions about e-filing your income tax returns, contact the IRS on business days at (800) 829-1040 between 7 a.m. and 10 p.m. local time.