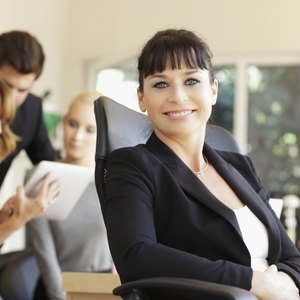 •••
Szepy/iStock/Getty Images
The U.S. Equal Employment Opportunity Commission is the federal agency charged with enforcing laws prohibiting employment discrimination. As a civil law-enforcement agency, the EEOC is staffed with hundreds of attorneys performing various legal tasks, including trial attorneys, legal counsel, general counsel and administrative judges. The salaries for these positions are governed by the federal General Service pay scale.
General Service Pay Scale
EEOC attorney salaries are governed by the GS pay scale maintained by the Office of Personnel Management. The GS scale is a matrix divided by grades and steps stating the specific annual salaries for EEOC attorneys. After a year of acceptable service, an EEOC attorney is entitled to a within-grade increase to the next step in the pay scale. After an attorney reaches step 4, she achieves step increases after every second year until she reaches step 7. The pay scale requires a three-year waiting period to steps 8, 9 and 10.
Entry and Mid-Level Pay Rates
The EEOC hires entry-level attorneys at the GS-11 grade for trial attorneys and attorney advisor positions. This means that a recent law school graduate hired by the EEOC in 2014 can expect to be paid an annual salary of $50,790. If the EEOC attorney is hired into a "career-ladder" position that guarantees a grade increase after one year of acceptable service, then the base salary is $60,877 per year. The GS-13 level can be achieved after a promotion, which has a base salary of $72,391 per year.
Senior-Level EEOC Attorneys
The EEOC employs senior-level legal staff who make policy decisions, write and approve regulations and also conduct hearings to adjudicate claims. These higher-level attorney positions usually begin at the GS-14 level, which pays a base salary of $85,544. The highest grade level for an EEOC GS attorney is at 15, which begins at $100,624. A GS-15 attorney at the EEOC who has achieved the highest step increase rate would earn $130,810 at 2014 pay rates.
Locality Pay Adjustments
The pay for EEOC attorneys is adjusted to meet the various economic conditions of the locations in which they work. So, while a GS-11 EEOC attorney stationed in Ashland, Oregon, is entitled to the base pay of $50,790, his GS-11 peer in New York City would be paid $65,377. The purpose of the locality adjustment is to compensate for the additional cost of living.
References
Writer Bio
Kevin Owen has been a professional writer since 2005. He served as an editor for the American Bar Association's "Administrative Law Review." Owen is an employment litigator in the Washington D.C. metropolitan area and practices before various state and federal trial and appellate courts. He earned his Juris Doctor from American University.