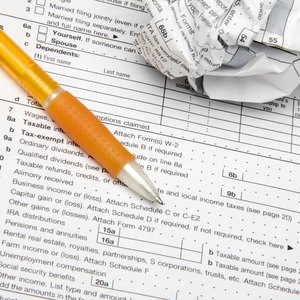 •••
Creatas/Creatas/Getty Images
The Internal Revenue Service recognizes that the cost of higher education can eat up a significant portion of a taxpayer's income and offers several educational deductions. Keep careful records of education-related purchases and tuition bills so you can receive a tuition deduction and itemize any additional educational expenditures.
Tuition Deduction
You may deduct up to $4,000 in tuition expenditures for yourself, a spouse or a dependent each year. If your tuition costs are higher than this amount, you cannot deduct them, and you may not deduct tuition costs for a spouse if you are married and filing separately. Most colleges and universities send a 1098-T form to students and the IRS at the end of each year itemizing tuition paid. Thus you can't deduct the full deduction of $4,000 if you paid less than this amount. You may also qualify for the lifetime learning and American opportunity tax credits, which vary depending upon your income and the amount you paid in tuition. These credits can get you a tax refund if they reduce your tax liability below zero.
Work-Related Expenses
Continuing education is an important part of many jobs. If you must complete continuing education for a work-related license or your employer requires ongoing training, you may deduct the tuition associated with this expense as well as the cost of supplies and travel. The IRS gives a standard mileage rate each year which, as of publication, was 55.5 cents per mile.
Supplies
Supplies such as lab supplies, school books, pens, paper, school-related electronics and other necessary educational expenses can be deducted. Save receipts for these items. Note that if you deduct an item it must have been purchased for educational reasons. You can't, for example, deduct a laser printer if you bought it last year but used it a few times for school this year.
How to Deduct
If you are deducting educational expenses that are not business-related, note the amount of the deduction on your 1040, then itemize your tuition and other costs on Form 8917. For work-related educational expenses, itemize your costs on Schedule A. If you are an employee rather than a business owner or independent contractor, you will also need to fill out Form 2106.
References
Writer Bio
Van Thompson is an attorney and writer. A former martial arts instructor, he holds bachelor's degrees in music and computer science from Westchester University, and a juris doctor from Georgia State University. He is the recipient of numerous writing awards, including a 2009 CALI Legal Writing Award.