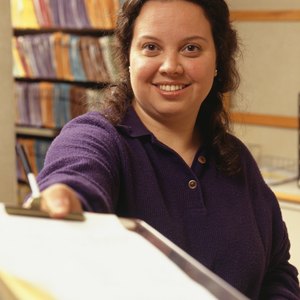 •••
Keith Brofsky/Photodisc/Getty Images
Medical insurance specialists work closely with all medical staff to properly bill a patient's health insurance for examinations, testing and procedures. In this position, you may work in a private practice, clinic or hospital setting. The Bureau of Labor Statistics reports a higher than average job growth rate for health information workers, and knowing the ways to educate yourself in this field will help you pursue a medical insurance specialist career.
Train in the Workplace
Some medical offices and clinics will train you for a medical insurance billing position. You might begin as a receptionist or file clerk in the medical practice where you can show your ability to understand concepts and complete tasks in a timely and accurate manner. When a position opens in the medical insurance department, you can apply for the position, reminding the hiring manager of your skills in your cover letter or interview.
If you do not start out in an entry-level position, you can still apply for a medical insurance specialist position. Highlight any health care qualifications or previous medical office experience to improve your chances for an interview where you can express your desire to excel in this field.
Attend Seminars and Conferences
Register for seminars and conferences that come to your area. This may require some out-of-pocket expenses, but you will have the opportunity to learn and engage with other medical insurance professionals. Making contacts with other attendees will also help you learn about any upcoming job openings. You can also attend online webinars that cover specific topics within medical insurance billing. Speakers conduct the course as if you have education or a working knowledge of the concepts discussed, so you may have difficulty following the discussion if you do not have some knowledge of the field.
Receive Certification
Many colleges and online programs offer a series of courses that will lead to certification as a medical insurance specialist. Some courses may include medical terminology, coding practices, facility billing and general accounting. Employment for a medical insurance specialist is competitive, according to Henry Ford Community College, but earning a certification can set you apart from other applicants.
Earn a Degree
You can opt to earn a two year associate's degree for medical insurance specialists. Each school will have slightly different course requirements, but you will most likely take courses similar to the certification programs. The degree may also require business office courses, accounting, writing and anatomy, along with electives to round-out your education. Following through with a college degree in this field will show potential employers your eagerness to learn and your commitment to follow through with your education, and this will help enter and excel in your medical billing and coding career.
References
Writer Bio
Kate Beck started writing for online publications in 2005. She worked as a certified ophthalmic technician for 10 years before returning to school to earn a Masters of Fine Arts degree in writing. Beck is currently putting the finishing touches on a novel.