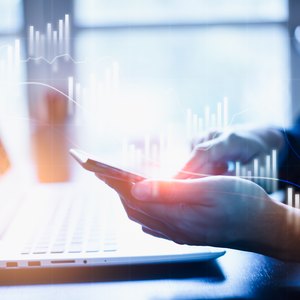 •••
Busakorn Pongparnit/Moment/GettyImages
The easiest way to transfer money from one bank account to another depends on when you want the money to arrive and whether you want to pay a fee. If the money must arrive the same day, the easiest method is to make the deposit either in person, through a wire transfer or using a third party vendor like Western Union. However, there is usually a charge for all of these except in-person deposits. If time is not of the essence, there are alternative free and low-cost options.
Visit Your Local Branch
Wire the Funds
If there isn't a convenient branch location nearby, you can wire the funds instead. This can often be done online on your bank's website. However, speak with your bank about its policy as some require you to complete this transaction in person at a branch location or over the phone with a customer service representative. Not only must you know the recipient's account number, but also his bank's routing number. This is the number that electronically identifies the bank where the account is located so the transfer is properly routed. If the recipient didn't give you this number, contact his bank for it. This number is freely given and may even be posted on the bank's website. Additional information your bank may request includes the recipient's name, address and phone number. Banks typically charge a fee for sending wire transfers, which are usually delivered the same day if you set up the transfer before your bank's cut-off time for such transactions.
Use an Email Address and Mobile Number
Many banks also give you the option to electronically transfer funds online or using an email address or mobile phone number. For example, with Bank of America and U.S. Bank, you can transfer money from your bank account to another person's for free by providing either his email address or cell phone number on the bank's website or using its mobile app. There is no need to know the recipient's bank account number. The recipient provides this information when he gets a text or email explaining how to complete the transaction. U.S. Bank, like many others, also lets you send money online directly to his bank account by providing his routing and account numbers. This is popularly known as direct deposit or an Automated Clearing House, or ACH, transaction. Unlike with a wire transfer, the service is usually free and delivery can take up to several business days.
Use a Third Party Vendor
You can also send money from your bank account to someone else's by using a third party vendor such as PayPal, Western Union or MoneyGram. With PayPal, you supply the recipient's email or phone number. The money will be taken from your PayPal balance, if you have one, or the bank account attached to your PayPal account. Both WesternUnion and MoneyGram also allow you to send money online from your bank account to someone else's for a fee, which varies based on how much you transfer.
Keep Your Money Safe
Transferring money electronically is safe, so long as you adopt a few key practices. Only transfer money using a reputable financial institution, preferably your own, and only to persons or businesses you are familiar with. If your transfer is stolen or compromised in any way, immediately notify the bank you sent it from. Although procedures can vary, stolen funds are typically refunded after the financial institution conducts an investigation.
References
Writer Bio
Based on the West Coast, Mary Jane Freeman has been writing professionally since 1994, specializing in the topics of business and law. Freeman's work has appeared in a variety of publications, including LegalZoom, Essence, Reuters and Chicago Sun-Times. Freeman holds a Master of Science in public policy and management and Juris Doctor. Freeman is self-employed and works as a policy analyst and legal consultant.