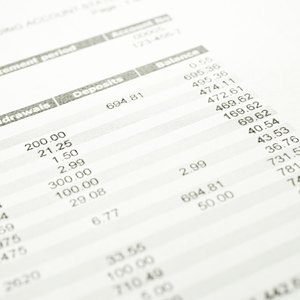 •••
Image Source/Image Source/GettyImages
Many banks, including Capital One, provide customers with the option to go paperless. This choice may help protect the environment by using less paper, but what is an account holder to do after choosing the paperless option and then getting a request from a mortgage broker or other lender to produce their most recent bank statement? Fortunately, there is always the opportunity to download and print the bank statement if needed.
Request to Go Paperless
If you haven't already requested to go paperless, it takes only a few seconds of your time. You must sign in to your online banking platform and from there click the "My Info" button. Press the plus sign next to "Update my Paperless Settings." You'll then see the option to click the "Online Only" box. Once you click it, you're enrolled in paperless statements. You can immediately view your statements, unless you just enrolled in online banking. In that case, you'll need to wait 24 hours to see your last two statements.
Download the Bank Statement
All new statements are posted online within four days after the conclusion of the account's cycle end date, which means you can log in to your online account and get a look the month's deposits and withdrawals. If you don't need an official copy of your bank statement, but you want a piece of the information for a file in your filing cabinet, you can print the statement or download it to your computer.
If you need a physical copy of the bank statement, you can print it out directly from your online banking platform. Simply sign in by entering your username, selecting your account type and typing in your password. Click "My Accounts" then "Accounts Summary." Choose the specific account from the drop-down menu. Under "Statements" you'll see a list of your most recent statements. They are organized by date. Click on the one you'd like to download. According to Capital One, you can download any of the statements to Quicken (QFX and QIF formats), QuickBooks and most spreadsheet programs.
If you need a statement that is archived, you can click the "Order a Statement Copy" link underneath of the available statements and Capital One will print and mail the copy directly to you.
Use the Mobile App
If you're on the go and you need to reference your Capital One bank statement, you can do so by downloading the company's mobile app from either iTunes or Google Play. You can also text "GET" to 80101 to download the app. Once you login to your account, you'll be able to request to see your payment history or your entire bank statement.
References
Writer Bio
Alicia Bodine is a New Jersey-based writer specializing in finance. With more than 13 years of experience, her work has appeared in LendingTree, GoBankingRates, Sapling, Zacks and budgeting.thenest.com.