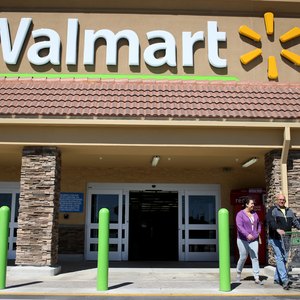 •••
Joe Raedle/Getty Images News/Getty Images
You can apply on line for grant money from Walmart's Community Giving program, administered by the Walmart Foundation. The company gave away $1.3 billion in 2013. Educational projects don't fall neatly into any of the corporation's four stated areas of charitable concentration, but they do fund some school-based initiatives that are in line with their overall mission of expanding opportunity and strengthening communities.
How Walmart Funds Educational Projects
Educational grant applications can be submitted by 501(c)3 nonprofit organizations to Walmart's state-level giving program during certain times of the year when community engagement applications that do not fit within the company's primary focus areas are considered. State-level grants are between $25,000 and $250,000, with $40,000 as the average award. Schools and school-based organizations that don't have formal tax-exempt status can apply for grants ranging from $500 to $2,500 through Walmart's locally-focused community grant program.
What Walmart Won't Fund
Walmart guidelines rule out scholarships, athletic events, fundraisers and athletic sponsorships in both the state and local giving programs. Capital campaigns, capital improvements and construction projects are also ineligible. Walmart won't fund contests, contest tickets, travel, any project that either portrays the company in a negative light or drives customers to its door, or any organization that discriminates or otherwise doesn't help the larger community. Walmart will not donate to projects that are designed to benefit foreign countries.
Applying for Walmart Funds
Walmart offers a preview of its grant application on its website. You must provide contact information, a profile of your organization, and an in-depth description of the program for which you're requesting funds. You need to define the unmet need or problem the money will solve, exactly how the money will be used, the target population that will be helped, the outcome you want to achieve and how you will measure success. Be prepared to provide a detailed breakdown of your proposed budget and an answer to the question of how your organization would sustain itself without Walmart's help. Only Walmart's official electronic application will be considered and applicants may not submit any further information.
How Winners Are Chosen and Notified
Walmart funds about a tenth of the applications received. For the state-level program, applications are forwarded to a state advisory council. Walmart does not give out direct contact information for the council, nor will the company respond to questions about your application status. State-level grant recipients will be notified by postal mail; if the answer is no, you'll get an email. Applications for the local program are reviewed by your local store's management, who make recommendations about decisions to foundation advisors. At the local level, all notifications are done by email.
References
Writer Bio
Anne Pyburn Craig has written for a range of regional and local publications ranging from in-depth local investigative journalism to parenting, business, real estate and green building publications. She frequently writes tourism and lifestyle articles for chamber of commerce publications and is a respected book reviewer.